The outcry over Carrier IQ's mobile-phone tracking software continued Friday, with a U.S. congressman asking the Federal Trade Commission to investigate the company.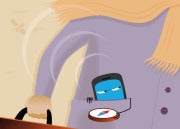 Carrier IQ came under fire this week after a researcher published a report showing that its software can be used to collect data about end users, such as their location, the keys they press on their phone and the applications they're running. Carrier IQ says its software delivers data to operators to help improve their services, and denies collecting personal information about users.
On Friday, Congressman Edward Markey, a Democrat from Massachusetts, sent a letter to the FTC asking it to investigate Carrier IQ. "I have serious concerns about the Carrier IQ software and whether it is secretly collecting users' personal information, such as the content of text messages," he said in a statement.
The FTC is charged with protecting people from "unfair or deceptive acts or practices," and as such should look into Carrier IQ, he said. The FTC has not said whether it will act on the request.
Carrier IQ issued a new statement Thursday insisting that it doesn't collect personal information. However, a video posted by the security researcher, Trevor Eckhart, appears to show that the software logs keystrokes.
The company is now also facing at least two class-action lawsuits.
Apple, AT&T, Sprint, HTC, Samsung, and T-Mobile have said some of their phones use the software. Research In Motion and Nokia have said they don't load the software onto their phones. Verizon also recently said that it doesn't install the software on its phones, although some developers say that they have evidence that some Verizon phones have the software.
Nancy Gohring covers mobile phones and cloud computing for The IDG News Service. Follow Nancy on Twitter at @idgnancy. Nancy's e-mail address is Nancy_Gohring@idg.com