A U.S. district court judge has denied Apple's request to halt sales of four Samsung products in an ongoing patent infringement lawsuit.
District Court Judge Lucy Koh's ruling on Apple's preliminary injunction request, issued late Friday, allows Samsung to continue selling the Galaxy S 4G, Infuse 4G, Droid Charge, and Galaxy Tab 10.1 in the U.S.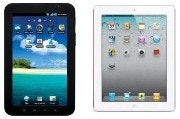 In its suit, filed in April, Apple claims that Samsung has infringed on several patents, including two iPhone design patents, an iPad design patent, and a list-scrolling software patent. Apple and Samsung are scheduled to argue the full case in court July 30 next year.
Though Koh found merit in particular with Apple's infringement claim regarding the list-scrolling software, she concluded that "Apple has failed to establish that it would be irreparably harmed in the absence of a preliminary injunction."
Koh appeared to have more problems with the design patents than she did with the list-scrolling patent. She wrote that "Apple has not met its overall burden of establishing a likelihood of success," regarding its iPad design patent during trial, mainly because Samsung has raised "substantial question" of the validity of the patent.
Regarding the broad nature of the iPad design patent, Koh wrote that "a size that can be handheld, a screen that encompasses a large portion of the front face of the smartphone, and a speaker on the upper portion of the front face of the product are non-ornamental."
Koh appeared to find the issue of the phone patents too close to call. "In this case, because the court considers the issue of infringement to be a close question, Samsung faces the distinct possibility of having to wrongly withdraw two cell phones from the market," Koh wrote.
Analyzing Koh's ruling, intellectual property analyst Florian Mueller wrote in his blog that " If Apple wants to defend market share against Samsung (and other Android device makers), it really needs to focus on solid technical patents instead."
Global Battle
Koh's decision is just one chapter in an ongoing global legal saga. Just this week, an Australian court extended the ban on Samsung's Galaxy Tab 10.1 in the country until December 9, giving Apple more time to substantiate its argument that the tablet should not be allowed to go on sale.
Apple is also trying to block Samsung from selling a new version of the Galaxy Tab 10.1 in Germany in an effort to dodge an earlier injunction in that country.
"These two companies will probably still be suing each other for quite some more time (and around the globe) before they reach an agreement," Mueller said.