Dell axed its Streak 7 Android tablet just a few months after it bid farewell to the Streak 5 back in August. After a short shelf life, "Streak 7 is no longer available," Dell is announcing in a note on its website. The 7-inch tablet was launched in January and its discontinuation means Dell has no other Android tablet offerings in the U.S. (it has a 10-inch model in China).

Dell didn't offer any explanation why it discontinued the tablet, while the Streak 7 product page now simply urges visitors to "browse our other mobile devices for similar products." One possible explanation is that Dell just didn't sell enough Streak 7 tablets: when it was launched in January, the device received only 2 out of 5 stars in PCWorld's review, which noted the buggy software and average screen quality, among other glitches.
The mobile offering from Dell now looks quite thin on the ground. The company has the Dell Venue Android 2.2 phone, and the Dell Venue Pro, a Windows Phone 7 device. As for tablets, Dell has the Inspiron Duo Tablet 10.1-inch convertible, which runs on Windows 7.
Amazon, King of the 7-inch Tablets?
During the first ten months of 2011, iPad competitors sold some 1.2 million tablets, with the discontinued HP TouchPad leading with one percent over Samsung's 16 percent. During this time, Apple is set to have sold more than 10 million iPads.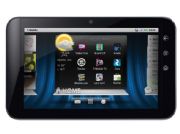 The dark horse of the tablet race could well be Amazon. The company's 7-inch Kindle Fire is selling for the same price as the discontinued Streak 7 after rebates ($200), and while Amazon is not giving out any specific figures, the company says it has sold "millions" of devices in just a few weeks since launch (analysts estimate around two million).
Amazon seems to have hit the sweet pot with consumers, not only on price, but also on the performance level — reviewers found it not particularly speedy, but fast enough for the price tag. Married with Amazon's bumper suite of media consumption services, Amazon is easily placing itself as the No. 2 tablet maker, making it increasingly difficult for the likes of Dell to come up with a competitive blend or hardware, software and services any time soon.
Follow Daniel Ionescu and Today @ PCWorld on Twitter