Amazon's Kindle Fire could actually bring more new iPad customers to Apple, according to one analyst who says the company isn't worried about the season's hottest new tablet.
In a note to investors, J.P. Morgan analysts say that while plenty of consumers have been gobbling up the new $199 Amazon tablet/e-reader hybrid, most are tablet newbies who "could gravitate to more feature-rich experiences."
In other words, new tablet users get hooked by the Kindle Fire, and eventually they'll become hungry for more. When they do, the iPad and its meatier specs and features will be there waiting to welcome them.
J.P. Morgan analysts met with Apple CEO Tim Cook and CFO Peter Oppenheimer on Friday to discuss the company's future and apparently walked away feeling more bullish on the iPad.
"In our view, Apple appeared confident in its position of strength in the tablet market continuing. We believe that Apple is not too concerned about the low-priced entrants," reads the note, also adding that the firm may have been "too cautious" when it slightly lowered its iPad expectations last week.
I should mention that J.P. Morgan's analysts have been anything but impressed by the Kindle Fire overall.
"It has been our view that low-priced, reduced feature-set entrants, such as the Kindle Fire, are soap box derby devices stuck between a tablet and e-reader," writes the firm's IT Hardware team. "Meaning, we are not concerned much about competitive pressures until the second or third generations."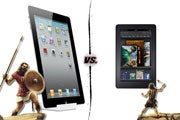 Soap box derby devices? Ouch.
J.P. Morgan does hedge its bets slightly by noting that Apple's continued success is dependent on its rapid-fire rate of product refreshes. If Cupertino doesn't continue to hold dramatic press announcements a few times a year, analysts say consumers could begin to "lose interest in the story."
Based on the number of iPad 3 rumors already floating around, there still seems to be plenty of interest in the tablet story. But a new character has entered the narrative, as evidenced by another nascent rumor mill — the one emerging around Amazon's plans for its next device.
E-mail Eric at EMackPCW at Gmail, follow him on Twitter, and at ericmack.org. Follow PC World on Twitter, too.