Unless Microsoft starts making its own processors and devices, it can't be an Apple-like company in control of everything. But it may get part-way there by asking chip-makers to team up with only one or two device-makers for Windows 8 tablets.
In a report from DigiTimes, unnamed sources say Microsoft is letting ARM processor makers Nvidia, Qualcomm, and Texas Instruments each pick two hardware partners for Windows 8 devices — one major and one minor, depending on the amount of technical resources invested.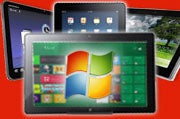 Qualcomm has reportedly selected Samsung as its major partner and Sony as its minor partner. Texas Instruments is going with Toshiba as the major partner and Samsung as the minor partner. Nvidia chose Lenovo as its major partner and Acer as its minor partner, says DigiTimes.
Although DigiTimes doesn't explain why chip-makers and device-makers are pairing off, the narrower focus should accelerate development and testing as Microsoft tries to have Windows 8 tablets ready in the second half of 2012. An earlier report from Bloomberg, which said Microsoft is limiting each chip maker to a single computer maker, suggests that the partnerships aren't mandatory but that Microsoft will provide incentives to participants, such as lower software prices or performance-enhancing features.
Notably absent from the partnership list is Asus. The company may be working only with x86 processors for now — either by Intel or AMD — hopefully with a modular design like the Eee Pad Transformer.
Because DigiTimes' report mentions only ARM processors, I'm guessing the partnership program doesn't apply to x86 processor makers Intel and AMD. That makes sense, because otherwise we'd only see four hardware companies making traditional x86-based Windows 8 laptops and desktops.
Follow Jared on Facebook and Twitter or Google+ as well as Today @ PCWorld for even more tech news and commentary.