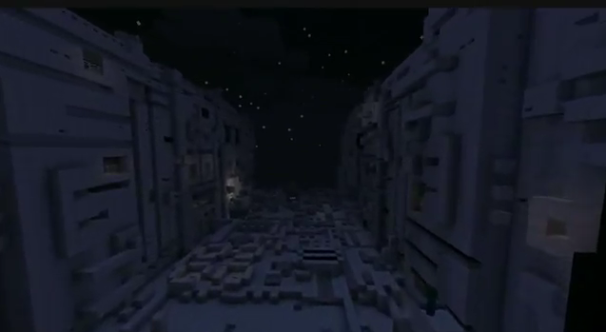 Prepare to have your mind blown. This is a full four-minute Minecraft recreation of the Death Star trench run and explosion from the original Star Wars movie.
A user named Paradise Decay, who is also an electronic dance musician, made his Minecraft replica of the Death Star trench over the course of four months. There are no mods or add-ons, just plain vanilla Minecraft. Paradise Decay recreated every nook and cranny, space building, turbo laser, and Starship model block by virtually hand laid block.
In the making-of video (embedded below), you can see all the fine detail he put into every crevice, including putting lava under the laser turrets for some cool lighting effects, and even putting torches in Darth Vader's TIE Advanced fighter.
Of course, this is not just an incredible Minecraft build, it's also an awesome work of machinima production. Machinima is a form of filming that uses a real-time 3D environment and character models. A prime example of the cinematography style would be the Halo-derived Red versus Blue series created by Rooster Teeth.
To recreate the scenes from "Star Wars: A New Hope", Paradise Decay used a flying-camera trick to make it look like we were going down the trench. As for making ships look like they were flying; he moved the camera around the block models in a technique known as Motion Control Photography. It's the same trick George Lucas used to make it look like his X-Wing and Millennium Falcon models were flying in the original movies.
Paradise Decay's next project will be a Minecraft adventure entitled Rise of the Rebellion, which involves stealing the Death Star schematics.
[Paradise Decay (on YouTube) via Escapist and Geek.com]
Like this? You might also enjoy…
Get your GeekTech on: Twitter – Facebook – RSS | Tip us off