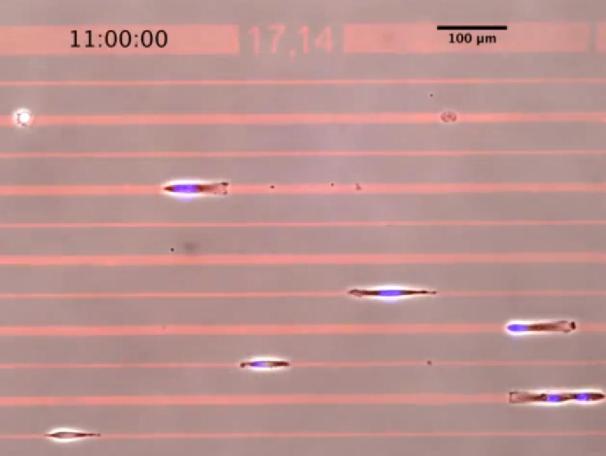 Most "normal" people race in race cars, in marathons, or on bikes, but not these people. No, these researchers raced cells in Petri dishes.
Competing neck to neck (or, should I say, flagellum to flagellum?), cells raced across a 400-micron-long racetrack in a petri dish (see the video below). The competition, called the World Cell Race, had participants from 50 labs hailing from all over the globe, according to a blog post on Nature.
To race, the competitors sent frozen cell lines–or cultures–to designated laboratories in Boston, London, Heidelberg, Paris, San Francisco, and Singapore. About 200 thawed cells of each cell type were then placed in specially designed race tracks that were 400 microns (.4mm) long and coated with a special substance that gave the cells traction. The cells were then recorded for 24 hours by digital cameras to determine the fastest cell for each cell line.
And the winners? According to the results announced at the American Society for Cell Biology's annual meeting, some frisky little fetal mesenchymal bone marrow stem cells from Yuchun Liu at the National University of Singapore took the title for the world's fastest cells.
To give you some idea of just how small this race is, it turns out that that stem cells have a wide range of sizes depending on their age and their purpose. Some larger stem cells like mouse embryonic stem cells can be as large as 440 micrometers in diameter, according to Japanese researchers, while Mesenchymal stem cells can be as small as 10 micrometers, as noted in an article published in PSC Publishing's journal of Integrative Biology.
But this competition isn't just about the fittest cells; it's also about looking at how cells move and migrate. Not all cells have flagellum–a tail-like structure–to help them move, so cell migration is somewhat of a mystery. Cell migration can help researchers understand how organs develop, how cancers spread, and how other operations in the body function.
If you think cell racing is crazy, Théry says that other cell competitions, like cellular swimming, may be in the works. And get this: weightlifting, may be up next.
[World Cell Race, Nature, and Nature on YouTube via Gizmodo]
Follow James Mulroy on Twitter and on StumbleUpon to get the latest in microbe, dinosaur, and death ray news.