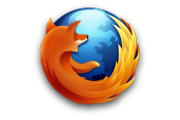 Mozilla is making an emotional appeal to Firefox users amid declining market share and potential lost revenue thanks to Google.
Mozilla has released a video, called "The Mozilla Story," which explains the organization's roots as a community project and the importance of Firefox as an open-source Web browser backed by a non-profit organization. The video avoids technical nitty-gritty in favor of general statements about putting users' interests first.
"We're a non-profit, fighting to protect the web we all love," the video's narrator states, shortly before asking for donations.
Firefox has fallen on some trouble lately. Last week, Google's Chrome browser jumped ahead of Firefox in browser share, according to Web analytics firm StatCounter. Meanwhile, Mozilla is re-negotiating a search referral deal with Google that expired in November. That deal generated $103.5 million for Mozilla last year–roughly 80 percent of the organization's revenue.
Earnings from all search services accounted for 98 percent of Mozilla's revenue in 2010, so a push for donations probably won't make a huge impact on the organization's earnings. Still, it doesn't hurt to stir up some emotion in users and remind them why Firefox is important.
I just wish Mozilla pointed out more specifics about the advantages of Firefox instead of vague statements on the virtues of being non-profit and open-source. The video briefly mentions Firefox's Do Not Track feature, mobile browser and work with Web apps, but doesn't describe any of those developments in detail. The video trumpets how Firefox isn't obligated to shareholder interests, but doesn't offer specific examples of how for-profit browsers have failed their users or the Internet.
A more effective video would actually describe the doomsday scenario that Mozilla is fighting to prevent: a closed Web full of walled gardens, just like the old days of AOL and CompuServe. Mozilla has spoken out against this issue before, pointing out that mobile platforms have become closed and centralized. It's too bad the organization's appeal video doesn't scare up that kind of debate.
Follow Jared on Twitter, Facebook or Google+ for even more tech news and commentary.