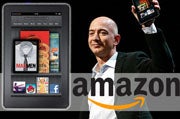 Amazon's Kindle Fire will grab 50 percent of Android tablet sales in 2012, building on its success from this year, according to an investment analyst.
Kindle Fire is the only tablet in the market to mount a credible challenge to Apple's iPad, but it has had to do so by selling at cost, Evercore Partners analyst Robert Cihra wrote in an investment note reported by CNNMoney.
As noteworthy as that challenge is, it still won't make much of a dent in Apple's market lead, he said. Moreover, he asserted, it could make that lead starker by driving from the market Android tablet players who can't compete with Amazon's "razor blade" strategy. That strategy, hatched by King Gillette at the beginning of the 20th century, was to sell his hardware — the safety razor — at or below cost so he could land long-term customers for his content — razor blades.
While Kindle Fire could capture 50 percent of the Android tablet market next year, selling tablets isn't the issue for Amazon, according to Stephen Baker, an analyst with the NPD Group, a market research company.
"They're selling lots of tablets at $199, but they're not making any money at $199," Baker told PCWorld. "Their goal is to create a long-term value proposition in terms of selling music and movies. What matters to them is creating that ecosystem around their content services."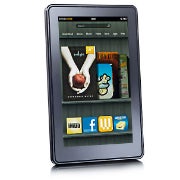 As soon as Kindle Fire hit the market, stories began to appear that mainstream personal computer makers were preparing to concede the tablet market to Amazon and Apple. A report in DigiTimes, a publication that pays close attention to what's happening at the manufacturing end of the supply chain, said upstream sources believed players such as HP, Acer, Asustek and Dell "will gradually phase out" of the market.
Baker discounted that notion, saying that "most of the PC and phone OEMs realize they need a play in the tablet business. I don't think they're going to give up."
Hardware makers will also be drawn to the tablet market next year by more powerful processors and the entry of Microsoft into the fray. Tablets sporting Nvidia's Tegra 3 chip will tempt slate shoppers with muscular performance. Meanwhile, Microsoft has begun hammering out deals with chip makers in preparation for making tablets based on its upcoming Windows 8 operating system.
Despite all that activity, Evercore analyst Robert Cihra expects Apple's tablet domination to continue. Fourth-quarter shipments of iPads are less than he originally predicted — 14 million rather than 15 million — but he attributes that to inventory reductions in anticipation of an iPad 3 launch in March.
Follow freelance technology writer John P. Mello Jr. and Today@PCWorld on Twitter.