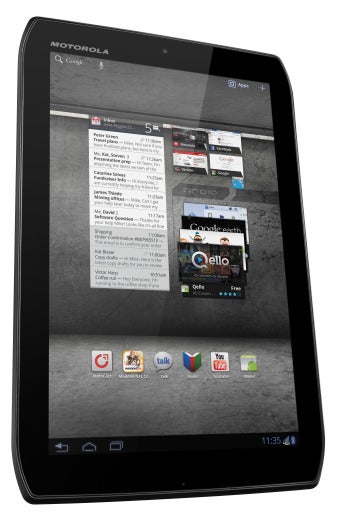 Motorola Tuesday announced its newest entries into the tablet market–the Droid Xyboard 8.2 and Droid Xyboard 10.1, each offered via Verizon with LTE mobile broadband. An announcement of something new was long in coming; Motorola already unveiled the Xoom 2 in the United Kingdom and Ireland, but beyond that, Motorola has been suspiciously quiet on the U.S. front ever since its Xoom became the first Android 3.0 Honeycomb tablet to market this past February. Sure, there have been small, iterative improvements to that original Xoom, but nothing more. Until now.
If the Droid Xyboard's design looks vaguely familiar from following tablet news, that's because it is: The physical design is identical to what was already released across the Pond. I've handled that model, and it seems to have some pleasing contours along the edges, and felt reasonable to hold in one hand. Those were two things that the original Xoom, which was thick and heavy, lacked.
However, in the U.S., Motorola indicated a name change worked better for its carrier partner, Verizon. Perhaps that's because as the Droid Xyboard, the name leverages the success of Motorola's "Droid" family of smartphones, which have long been flagship models for Verizon. And it also marks a clean break with the original Xoom, which remains a capable performer but took a lot of knocks for its bulky design.
So what's inside the new tablets?
Details are actually still fairly thin. Both feature dual-core 1.2-GHz processors and 1GB of RAM (curiously, Motorola has not been any more specific than that, so no word on whose platform the company is using). Both will be launched in December, and both ship with Android 3.2 and will be upgraded to Android 4.0 Ice Cream Sandwich next year.
Both use Corning Gorilla Glass scratch resistant displays, and both have a water-repellant coating to resist accidental spills. The Droid Xyboard 10.1 has, as the name indicates, a 10.1-inch display, while the Droid Xyboard 8.2 has an 8.2-inch display. The choice of 8.2-inches is a curious one: We've already seen a wide range of Android tablet displays introduced–7.0-inches, 7.7-inches, 8.0-inches, 8.9-inches, and 9.4-inches, in addition to the practically de rigeur 10.1-inch display—but this is the first 8.2-inch from a major maker we've seen. Will it strike that perfect balance of weight and size? We'll know once we get a chance to play with one.
Motorola did not specify dimensions, although, since these are physically the same as the Xoom 2 line introduced in November, we can make some assumptions about the dimensions and weight. We already know the Xoom 2 (10.1-inch display) measures 10 by 6.85 by 0.35 inches; those dimensions, by the way, make it among the thinnest tablets announced in the U.S. to date (only the Samsung Galaxy Tab 10.1, Asus Eee Pad Transformer Prime, and Apple iPad 2 are thinner). The Xoom 2 Media Edition (8.2-inch display) measures 5.47 by 8.5 by 0.35 inches. As for weight, the 10.1-inch may weigh in the vicinity of 1.3 pounds for the 10.1-inch model (Xoom 2 was 1.32 pounds), and under one pound for the 8.2-inch model (Xoom 2 Media Edition weighs 0.85 pounds). We figure the U.S. models may weigh ever-so-slightly more than their U.K. counterparts, due to the extra components required for mobile broadband.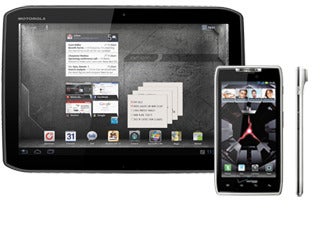 The tablets will also have preloaded apps for business, most notably Quickoffice HD and Citrix GoToMeeting; and Motorola says they will have "enterprise-grade security," though the company's available materials don't specify what those features are.
Of the two tablets, the Droid Xyboard 10.1 is being targeted at business users in part because of its larger display (which is better for productivity) and in part because it includes a stylus.
The Droid Xyboard 10.1 will come in three versions: 16GB for $530, 32GB for $630, and 64GB for $730 (all prices assume a new two-year LTE service contract). The Droid Xyboard 8.2 will come in two version: 16GB for $430, and 32GB for $530 (again, with new two-year contract).
Lost amidst the announcement of the new tablets is the fate of the original Xoom, still for sale at Verizon. Motorola says that model will continue to be sold, but the company did not have any information beyond that at this time.