At a Glance
Expert's Rating
Pros
Includes on-the-fly profile-switching features
Interchangeable parts let you change mouse shape
Cons
Doesn't automatically load app-specific profiles
Our Verdict
The MadCatz Cyborg RAT 7 Albino is a full-featured, physically tweakable gaming mouse that you can alter to your exact preference.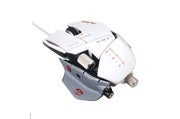 An ordinary, pack-in Dell or HP mouse is probably good enough to get you through the workday. But if you spend your nights and weekends gaming on your PC, you probably want more than two buttons and a scrollwheel. A good gaming mouse is practically an extension of the body–and the Mad Catz Cyborg RAT 7 Albino ($100 as of December 6, 2011) lets you tweak and interchange different parts to make it a perfect fit.
Mad Catz used to be the game-controller maker you turned to when you needed a spare console controller or memory card, and you didn't want to pay full price for the official Nintendo/Sony/Sega-branded accessory. The company changed its reputation for cheap, subpar gaming gear a few years ago with the MadCatz FightStick Tournament Edition, a high-quality (and high-priced) arcade stick for fighting-game enthusiasts. Now Mad Catz is making a splash in the PC-peripherals business with the Cyborg RAT 7 gaming mouse, which is physically customizable in ways I've never seen before.
The first thing you'll notice is that it resembles a thrown-together collection of plastic and metal plates that vaguely form the shape of a computer mouse. It's a radical departure from competing mice such as the SteelSeries Sensei, which looks as if it were cut from a single block of steel in comparison. Aesthetically, this mouse isn't my cup of tea, but that's more my personal preference than anything else–PCWorld desktops editor Nate Ralph is convinced it looks like The Future.
Don't be fooled by the future-junkyard appearance, however: The mouse is actually quite comfortable to use. In fact, it's comfortable because it consists of several discrete parts that you can swap in and out according to your preference. Everyone has a slightly different way of holding a mouse (check out our "How to Choose a Gaming Mouse" video to learn more). Rather than try to create a mouse that would be perfect for everyone out of the box, Mad Catz designed the Cyborg RAT 7 so that you can shape it to your liking.
Built into the mouse itself is an Allen wrench that you can pop out and use to make adjustments to the input device's physical shape. You can adjust the length of the thumb rest, add and remove weights from an internal compartment, and–most important–swap out the stock palm rest and pinkie rest for your preferred versions.
The palm rest and pinkie rest each have three different options. The palm rest comes in a low-profile smooth version, a low-profile version with a textured rubber layer for additional grip, and a high-profile smooth piece that extends about a half-inch higher than the low-profile flavors and feels similar to an Intellimouse (or the SteelSeries Sensei) in shape. The pinkie rest has a textured-rubber version, a smooth plastic version, and an extended "wing" version that lets you rest your little finger on it instead of keeping your pinkie on the side of the mouse or letting it hang on your mouse pad (thus causing more drag).
After trying all the combinations, I decided to stick with the grip-style pinkie rest and the smooth low-profile palm rest. Since the palm rest sits on an adjustable rail, you can make it shorter or longer as well; I have big hands, so I found it most comfortable when it was extended slightly. All in all, I liked being able to tweak the mouse to the exact shape and size that I preferred. This feature alone makes the Cyborg RAT 7 a particularly safe buy if you're choosing a gift for a gamer, or if you're buying a mouse online without having tried it out in person yourself. It isn't flawless–the left- and right-click buttons seem a little too far from each other, and they aren't tweakable–but the customizable design is neat nonetheless.
In total, the mouse has five programmable buttons, plus a vertical scrollwheel and a rather unusual horizontal thumb-scroll stick. A mode switch next to the left-click button lets you instantly toggle among three different configurations. A mouse-sensitivity switch below the scrollwheel allows you to select from four different DPI settings. And a Precision Aim button by the thumb rest will change the mouse to a different DPI while you're holding it down (by default, this button lowers the mouse sensitivity by half, which is useful if, say, you're zoomed in with a sniper rifle and you don't want the mouse control to be as jumpy).
The included configuration software is full featured and easy to use. You'll be spending most of your time tweaking the mouse sensitivity in the Settings menu, where you can adjust the four different DPI presets, the separate X/Y-axis sensitivity, and the Precision Aim sensitivity. You can also record mouse and keyboard combinations, though you won't be able to record a full-on macro with timing or mouse gestures. The software isn't nearly as in-depth or configurable as the Sensei's is–but unless you know exactly how your game could change if you tweaked the mouse lift, path correction, mouse acceleration, or other advanced features, that isn't necessarily a critical omission. You can't configure the driver software to switch to application-specific profiles, unfortunately, so if you plan to use the mouse to its full potential, you have to keep the app open and manually switch from profile to profile yourself.
A note for online role-playing game enthusiasts: Mad Catz is releasing a version of the mouse designed for MMO players in the next month or so. The Cyborg RAT 7 MMO Edition will replace the Precision Aim button with a five-way thumb switch that gives you even more programmable inputs, and it ships with a World of Warcraft driver add-on that lets you configure the mouse in-game via an easy-to-use drag-and-drop interface.
The Mad Catz Cyborg RAT 7 Albino is a solid gaming mouse even before you consider its physical tweakability. The fact that you can adjust its weight, size, and key contact surfaces, however, is what pushes it from good to great. The $100 price isn't cheap, but if you're serious enough about games to shell out that much for a mouse, this model is certainly worth a look.