Planning on shopping this Saturday? Amazon will pay you up to $5 if you purchase from its Website instead.
This one-day discount is a promo for Amazon's Price Check app, which allows shoppers to see whether Amazon.com is offering better prices than brick-and-mortar stores. Users can look up products by scanning a bar code, taking a picture, saying the product's name, or typing the name into a search box.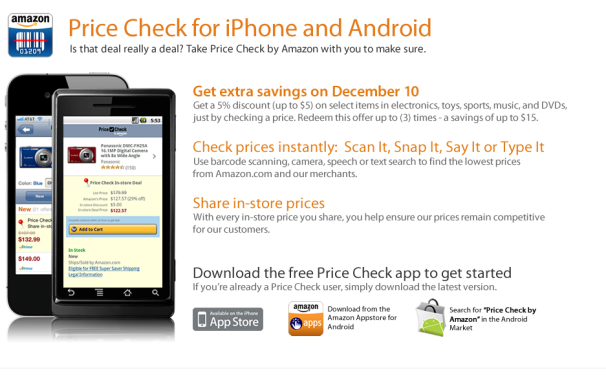 On Saturday, users of the Price Check app can get a 5 percent discount on select toys, electronics, sports, music and DVDs if they add the item to their Amazon.com shopping cart from within the app. The discount is good for up to $5 per product, and three products per customer. Users also have the option of submitting retail store prices they find, to help Amazon keep an eye on the competition.
Amazon certainly won't be making any friends in retail with this promo, which encourages the practice of checking prices online before making in-store purchases. As All Things Digital points out, physical retailers are beginning to feel like showrooms for online retailers–customers come in to try products out before purchasing online, where prices are lower and sales tax may not apply.
Once this promo is over, however, you might consider using a price-checker that isn't limited to Amazon. ShopSavvy, for example, checks prices at other online retailers, as well as at nearby stores. Unlike Amazon's app, which is only available for iPhone and Android devices, ShopSavvy also supports Windows Phone 7.
Follow Jared on Twitter, Facebook or Google+ for even more tech news and commentary.