Can't figure out what to get people on your holiday gift list this year? Instead of wracking your brain for hours or wandering the mall in futility, maybe you should turn to their Facebook profiles for hints.
Welcome to gift giving 2.0–there are now several services that will mine your friends' Facebook data and put it to work for you (or against you, depending on how you look at it). These services combine the power of Facebook data with online shopping to come up with personalized gift recommendations for all of your Facebook friends.
GiveEmThis.com
Imply Labs' GiveEmThis connects to your Facebook account and analyzes your friends' profiles to come up with gift recommendations.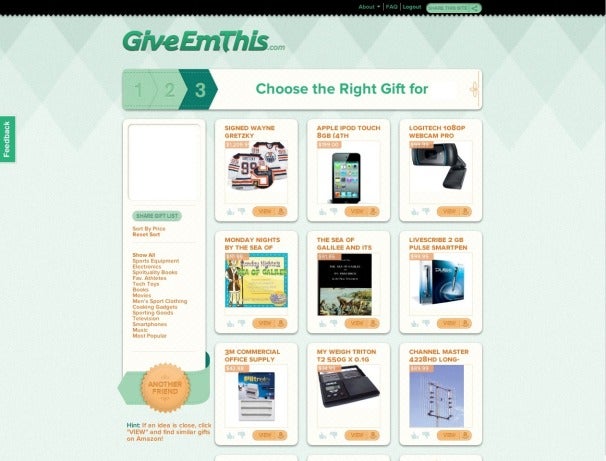 To begin, choose the friend you want to buy a gift for and enter their gender and age to help narrow gift selections. GiveEmThis will then look at your friend's status updates, "Likes," events, and general profile information to figure out what they might be interested in. After a few seconds, the site will compile a list of possible gift options available on Amazon.com, in a variety of price ranges. All you have to do is click on the gift you like best, and you'll be taken to Amazon.com where you can make your purchase.
GiveEmThis also gives you the option of sharing gift suggestions or entire gift lists via Facebook, Twitter, or email. GiveEmThis does not post any information to your Facebook wall, so your friends won't discover your gift-giving secrets unless you explicitly share a gift idea with them.
GiveEmThis can also further customize gift recommendations by analyzing a Facebook friend's Twitter stream.
Chrift.com
Chrift is similar to GiveEmThis–it analyzes Facebook friends' profiles and spits back gift recommendations. Chrift does let you choose minimum and maximum gift prices to further narrow your options, though you can of course opt to set no budget.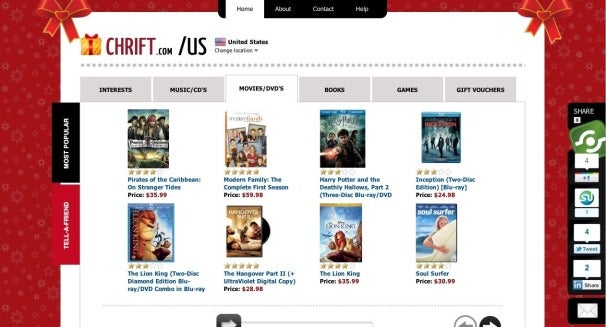 Similar to GiveEmThis, Chrift sorts through your friend's Facebook profile to figure out what they might like. Chrift breaks down its gift selections into categories, such as music, movies, books, games, and gift cards. Chrift also says that your activity on its Website will not find its way back to Facebook, so you'll be able to keep your gift-giving secrets…secret.
Amazon Gift Suggestions
Amazon.com has its own answer to gift recommendations: its Amazon Facebook tool.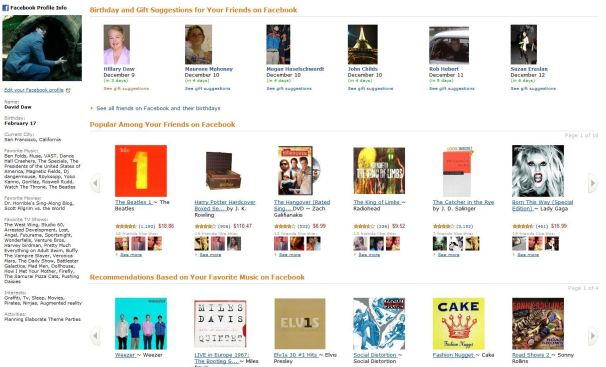 But, while Amazon's Facebook tool scans your Facebook friends' profiles for gifts, it operates on a slightly different profile. Instead of analyzing profiles, Amazon tries to match up your friends with their Amazon.com accounts, and give you access to their Amazon wish lists. After all, the easiest way to ensure your gift will be appreciated is to buy something they've explicitly asked for.
Walmart also has its own personalized gift recommendation service: Shopycat, which is built right into Facebook as an application.
Shopycat compiles a list of gift ideas that it thinks particular friends might like. When we first took a look at Shopycat, it pulled gifts from a number of services. Now, however, Shopycat sends you to Walmart.com for all of your purchases. Adding Shopycat to your Facebook profile will alert your friends that you're using the service through Facebook's ticker.
[RELATED: Shopycat: Walmart's Facebook App for Last-Minute Holiday Shopping]
Etsy Gift Finder
Shopping for the person who has everything? Try Etsy's Gift Finder.
Etsy is an online shopping site where members can sell hand-made goods–sort of an eBay for crafters. The main strength of Etsy's gift finder–which also scours people's Facebook profiles for relevant info–is the wide range of unexpected gifts you can find.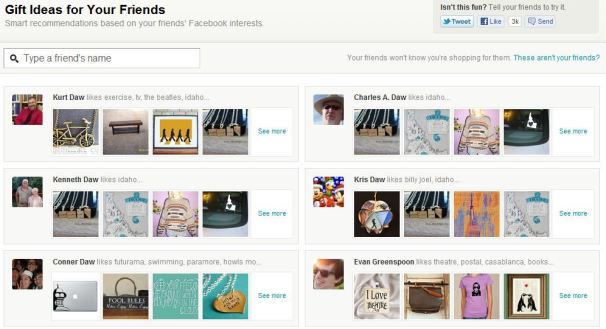 Your Buffy-obsessed friend may have the entire show on VHS, DVD, and Blu-ray, but I bet they don't have a tiny handmade Buffy coffin.
Turn It On Yourself
If you get sick of shopping for your friends, turn these services loose on your own Facebook profile to see how your activity translates into gift ideas. Both Shopycat and GiveEmThis offer the option of seeing your own gift recommendations.
This can be pretty instructive, as you'll discover that while these services can throw a lot of gift ideas your way, few are particularly inspired or original. The Amazon app gets around this by listing things your friends have explicitly asked for, and Etsy has some original suggestions by virtue of sheer strangeness. But most of these tools will deliver what you expect: books about places you've visited, sports paraphernalia for your favorite teams, and DVDs for TV shows and movies you've already seen.
Still, you may find a few gems. That remote-control pillow on my list looked pretty enticing, especially when paired with a gift bag of beef jerky and Sherlock: Season One.
Connect with Ian Paul (@ianpaul ) and Today@PCWorld on Twitter for the latest tech news and analysis.
Additional Reporting by David Daw.