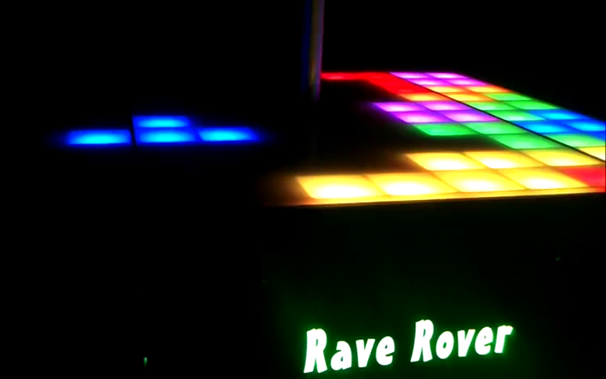 As far as DIY party setups go, we at GeekTech have seen plenty of awesome builds, from the Rainbowduino coffee table to Kinect lightshows and even a raving wheelchair. But the Rave Rover portable dance floor beats out all the rest.
This DIY dance floor, made by Rave Rover's Chris Williamson, not only displays brightly-colored cubes in various patterns, but it is also a soundsystem and acts as a stage for particular dancers to perform on. The best part, though, is that the floor also has a Tetris mode–that's right, instead of getting frustrated at the classic block game, you'll be dancing on it.
Like with many projects similar to this, an Arduino board controls pretty much everything. The floor is dominated by powerful LED lights, which respond to a Serial Peripheral Interface (SPI). A small computer is also inside (complete with Wi-fi), along with a car radio hooked up to speakers. Oh, and thanks to additional wheelchair motors, the floor can be wheeled away to wherever it's needed.
Chris managed to build the dance floor in just one month, and documented how to do it on Instructables for anyone who wants to make their own. And now you've seen this, would you really want to throw a party without one?
[Rave Rover via Hacked Gadgets]
Like this? You might also enjoy…
Get more GeekTech: Twitter – Facebook – RSS | Tip us off