USB: a blessing and a curse, am I right? Love the plug-and-play simplicity, hate the lack of standards for USB connectors. Between your digital camera, e-book reader, and iPhone, you could end up needing three different cables. Hassle city!
So here's an idea whose time has definitely come: the Magic Cable Trio. It's a 3-in-1 USB charge/sync cable with connectors for micro USB, mini USB, and Apple iDevices. Be still my heart.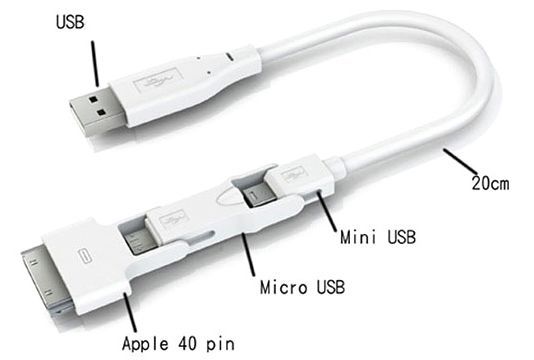 The Trio measures a travel-friendly eight inches and sports three tips–two of which daisy-chain in behind the third. In other words, the cable has an Apple connector at its far end, but you can slide that forward to reveal a micro-USB plug. Slide the micro-USB plug forward and you get mini USB.
What's especially brilliant here is the hinged design of each connector; the plugs you remove stay attached to the cable so they can't go missing.
Now for the bad news: the Magic Cable Trio is a bit pricey at $19.99–though when you consider you're getting the equivalent of three cables (which might run you $10 apiece if purchased separately at, say, Best Buy), the deal doesn't seem so bad.
Indeed, put me down for one of these babies. I love convenience, and this is one of the most convenient (and head-smackingly obvious!) accessories I've seen all year.
Contributing Editor Rick Broida writes about business and consumer technology. Ask for help with your PC hassles at hasslefree@pcworld.com, or try the treasure trove of helpful folks in the PC World Community Forums. Sign up to have the Hassle-Free PC newsletter e-mailed to you each week.