Evernote, the popular multi-platform tool for organizing all your notes, has released two new iOS apps that promise to make two of the most difficult organizational tasks easier. Evernote Food is a meal tracker that promises to help you keep track of everything you eat, and Evernote Hello is a contact manager that looks to make it easier to remember new people you meet.
It's an interesting strategy for a company like Evernote that is already known for its iOS mobile app (though it also has a popular Evernote desktop client) to essentially release supplemental apps to add functionality that might just get in the way for most users. [Download Evernote's desktop client.]
This isn't even the company's first foray into single-function apps. Earlier this year the company released an Apple iPad 2 app called Evernote Peek that worked with the cover on the iPad 2. Since these new apps are all free, the question is: Is the added functionality of Food and Hello is worth the extra space on your mobile device. We downloaded both apps and gave them a quick look to find out.
Evernote Hello
Since Evernote lets you capture whatever data you want quickly, many users have treated the service as a contact manager for years. Hello's goal is to make it easier to sort out a rush of new contact information by adding a lot of tags to each new contact. In addition to basic contact info like name, email, and phone number, Hello lets you take a quick photo of your new contact as well as stamping the photo with the time and location of the meeting to make remembering the new contact a lot easier.
The problem is that, in practice, it's kind of unwieldy to enter contact information into Hello. The app suggests that you hand your phone over to your new acquaintance and have them enter their own info, a solution that seems clunky and uncomfortable for you AND your new friend.
Luckily, Hello will let you enter the information in yourself, which isn't easier but is (at least for me) a lot less socially awkward. Still, unless you're meeting a LOT of people, Hello's added geo-tagging and photo capabilities don't seem necessary, and it would seem to be easier to just continue to use Evernote for your contacts. If you ARE meeting a lot of people, then it seems like an unnecessary hurdle to try and get a picture of each of your new contacts. Hello is neat and well designed, but I don't see myself opening the app that often once the novelty wears off.
Evernote Food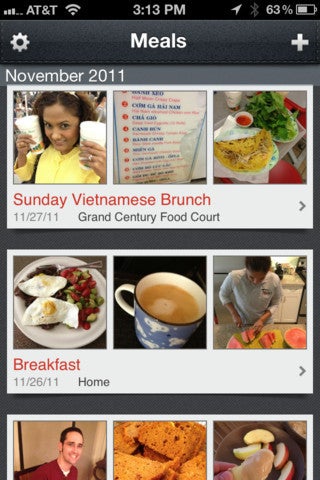 Like contact management, keeping track of your meals and recipes is already a popular use for Evernote. Food aims to make that process simpler by giving you a set format for tracking your meals. Food makes it easy to take a photo of your food, give a location for it, tag your food with any descriptors you want like "Mexican Food" or "Delicious," and then write a short note with any miscellaneous information.
The app is unique in that, unlike other food-tracking apps, it's up to you what you want to do with your meal data after you entered it. Instead of being a dedicated diet app or recipe book, Food acts as a catch-all tracker of everything you eat. It then lets you decide if you want to use it to cook better meals, find better restaurants, or just eat healthier.
But that wealth of options means that Food lacks the functional depth of other food-tracking apps. If you want to list the specific ingredients of a new cake when working out a recipe or include the nutritional information of the pizza you just ate to help out with your diet, you'll need to manually enter that data into the info field for each meal.
Who Are These For?
So the problem with both Food and Hello is that the apps don't really commit enough to any one function to stand out from the crowd of other contact and food-tracking apps. If you already have food and contact-tracking solutions, there's not a lot here that's likely to get you to switch over since other apps will track these things faster and easier.
Food and Hello probably aren't intended for people that already have the perfect food- and contact-tracking solutions. If you're already a regular Evernote user, these apps are a great way to expand the service's functionality while keeping all your info in one place.
That's probably exactly the kind of user Evernote is targeting with these new apps. The idea here is clearly to make money by getting people to keep using Evernote. Interested Evernote users should head over to the iTunes store to download the new apps (Evernote Food Download / Evernote Hello Download). Android users should be on the lookout for their own versions of Food and Hello in the near future.