At a Glance
Expert's Rating
Pros
Minimal configuration required
Blocks phishing sites too
Cons
Interface could use some cleaning
Doesn't protect against Web-based exploits
Our Verdict
Great firewall protection app ZoneAlarm Free Firewall 2012 works well for inbound and outbound threats and has anti-phishing.
ZoneAlarm Free Firewall has arguably been the most popular third-party firewall for Windows. It's a two-way firewall that's designed to help protect your PC from hackers getting in and any malicious programs on your PC from sending data out, and it does a good job at it. However, it doesn't protect against Web-based exploits, intrusions that come in via the web browser, like some (but not all) other firewall solutions do. But on the other hand, it does include anti-phishing to help detect and block dangerous sites.This product is free for individual and not-for-profit charitable use, but that excludes governmental and educational organizations. Additionally, it includes 2GB of free online storage for backing up your files, (a service that ZoneAlarm also offeres separately).
When you install ZoneAlarm Free Firewall 2012 (I tested version 10.1.065), Check Point Software requires you to register the product, but you can opt out of providing your email address if you wish, and instead enter only your name.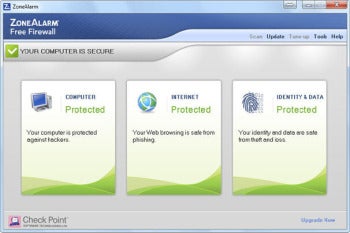 By default, the software installs the ZoneAlarm Security Toolbar for Internet Explorer and makes the Bing-powered ZoneAlarm Web search site your default home page and search provider. Though the ZoneAlarm Security Toolbar can be useful for some users–especially if they customize it and add more apps–it can be annoying to people who already have similar toolbars. If you prefer a search engine other than Microsoft's Bing, however, you'll probably want to forgo changing your home page and search provider. To opt out of each of these extras, uncheck the appropriate checkboxes within the installation wizard.
The installation wizard must download additional files–another 34MB during my evaluation–before it's ready to begin installing the firewall proper. But if you're installing it on multiple PCs via a network or flash drive, you should use Check Point's full installer and avoid wasting time and bandwidth downloading the additional files for each installation. Be forewarned, however, that the full installer is a big (148MB) file.
Once ZoneAlarm Free Firewall is in place, it will present you with a simple interface showing the status of the main protection areas: Computer, Internet, and Identity & Data. Each area provides status information and changes color in accordance with status changes. You can click on each to see status details and shortcuts to the related components.
Typically, no manual configuration is needed–the firewall and anti-phishing will just do its job. You might not even be alerted to allow or deny applications through the firewall since it automatically consults ZoneAlarm's DefenseNet cloud service for the safety information on the applications. The advantage of this is that you'll get fewer annoying popups, but offers less control by default and could even lessen your security.
Since potentially safe applications could be used maliciously, it's best to double check the list of all the applications allowed through the firewall, which ZoneAlarm Free Firewall lets you do. If you want more control, you can even disable the automatic application control altogether so you receive all program alerts, but is best for advanced users only.
If you've opted in for the ZoneAlarm Security Toolbar, you'll find it in Internet Explorer. You can use the search field to search using Bing. The Site Check button displays the current page's security status, which can help you identify phishing and other dangerous sites. You'll also find buttons for shortcuts to other ZoneAlarm services, your email, Facebook, and more. You can add more buttons by downloading additional apps for the toolbar.
During my review I didn't see any major issues and recommend ZoneAlarm Free Firewall for Windows users wanting enhanced firewall protection. If you're using a previous version, I'd also recommend upgrading. There aren't any new major features but the interface has been improved, despite still including shortcuts to the paid features.
Note: This product is free for individual and not-for-profit charitable use, but excludes governmental and educational organizations.
–Eric Geier