Microsoft upped its tech support offerings Wednesday with the debut of Answer Desk, a dedicated Website for live technical support for Windows OS and Microsoft Office software, PC tune-ups, virus removal, and software training. It will offer support 24/7 and 365 days a year.
Some basic help is free, such as tips on formatting within Word 2007 and how to burn a data CD. But from the up-sell options for paid tech support on Answer Desk it appears the site's main focus is getting you to pay up for premium tech support.
I informally tested the free service and was impressed by how Answer Desk helped solve basic problems for no charge. Here's an overview of Answer Desk.
Answer Desk allows you request a live Web-based chat with a technician. That person will go through a brief questions-and-answer dialogue to determine what your problem is. If the solutions to your problem falls within what can be fixed for free you are in luck.
In an informal test of the service an Answer Desk technician spent about 30 minutes with me helping solve Word 2007 formatting issues and also helped with resolving a problem I was having with burning data CDs.
The technician connected to my PC using LogMeIn Rescue, a remote access software program, and showed me exactly how to change the advanced formatting settings in Word and helped me fix a problem I was having burning CDs – no charge.
I'm impressed.
For the record Answer Desk says it only handles for free the Microsoft basics, such as troubleshooting Microsoft Office, PC start-up problems, and connecting to the Internet.
Premium Paid Support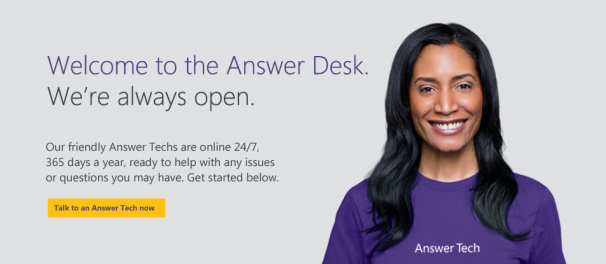 For trickier PC issues you can upgrade to a 60 minute session with premium support for $99, which provides "dedicated one-on-one support" and "comprehensive PC diagnosis." Prices vary, depending on the complexity of your problem or needs.
To chat with an Answer Desk tech about a malware-infected system will run you $99 – more if you can nab two hours of premium attention.
Answer Desk offers a two hour session for $99 that offers an "advanced PC tune-up." The services promises to optimize your system for top performance by removing unwanted junk from your system, scanning for viruses, applying software updates and system patches, scanning for malware, and stripping your browser of unwanted toolbars and add-ons that slow it down.
Similar to Apple's $99 per year One to One membership, the Answer Desk provides training and classes — though hour sessions with an Answer Tech (costs $49), so you'd better come prepared with a dump truck of detailed questions to get your money's worth.
Worth a Visit?
AnswerDesk.com launched with little fanfare. There hasn't even been a press release yet. So it's uncertain how much attention Microsoft will pay the Answer Desk — like offering support service for small businesses, such as Apple's Joint Venture. Answer Desk may simply be a URL extension of a service that preexisted on the Microsoft Store Web site.
For troubleshooting and help solving novice to intermediate Windows and Microsoft software problems Answer Desk is a great option to turn to. Should you fork over money for a fix? Without a more thorough test it's hard to say.
For those DIY-ers who don't want to spend of dime there are other PC how-to guides that don't come with price tags. If you're looking to inject some serious speed into your PC or just optimize it to its fullest potential, well, you can click those links and read PCWorld's guides.
(PCWorld's Tom Spring contributed to this report)