FreedomPop, a start-up company that aims to provide broadband and voice services to all Americans at no charge, has signed a wholesale network agreement with LightSquared to offer free 4G service starting next year.
Skype cofounder Niklas Zennstrom and his venture capital firm Atomico are the driving force behind FreedomPop, which is set to launch next year. Today the start-up announced the deal with LightSquared, which is currently building a nationwide 4G LTE network integrated with satellite coverage that will be wholesale only.
LightSquared's network is expected to come online in the second half of 2012. Both companies talk a lot of high-minded populist rhetoric about broadband access as a right, not a privilege. FreedomPop says when it comes online it will target "underserved markets" at first and move toward its ultimate objective " to ensure that every American has access to fast, free and convenient communication services."
"With the economic efficiencies delivered by LightSquared's wholesale business model, we can achieve our objective to deliver flexible high-speed wireless access to anyone at a fraction of the cost and inconvenience seen in today's market," Matt Ingrid, FreedomPop's chief operating officer, said in a statement.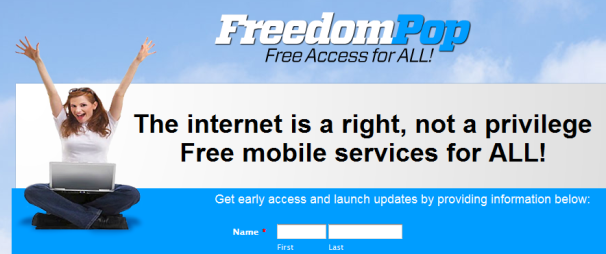 A skeptical person may wonder how the company went from "free" to "fraction of the cost" so quickly.
I haven't been able to track down any detailed information on exactly how FreedomPop plans to do all this. Presumably it will involve some sort of advertising or marketing partnerships, which takes off some of the altruistic sheen — not many human rights require you to view an ad before partaking in them.
I'm all for more competition for the wireless carriers, but given that LightSquared is investing $14 billion dollars in building its network, I can't imagine that FreedomPop will be able to give away broadband access without some very large strings attached.
Email Eric at EMackPCW at Gmail, follow him on Twitter, and at ericmack.org. Follow PCWorld on Twitter, too.