Amazon's special promotion to get shoppers to use its price check app this weekend has left retailers steaming mad.
The promotion, announced by Amazon this week, offers shoppers a 5 percent discount (up to $5) on select items purchased at Amazon if they use the company's smartphone app on Saturday to compare prices at a bricks-and-mortar store with Amazon's prices.
Shoppers can apply the promotion on three items, saving up to $15 on their purchases.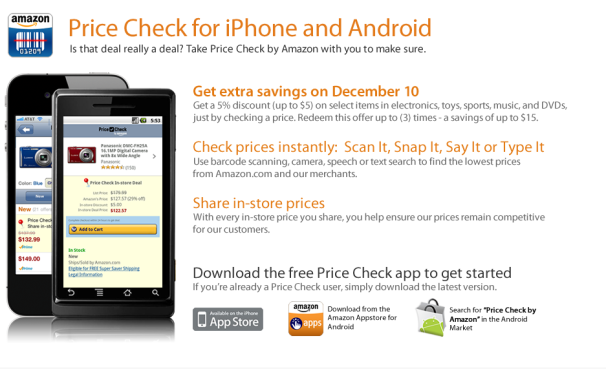 Retailers are using Amazon's offer to bring up a longtime bone of contention between them and online retailers: collection of sales taxes.
"Retailers compete on price 365 days a year, and at no time is that competition hotter than during the make-or-break holiday shopping season," Katherine Lugar, executive vice president for public affairs of the Retail Industry Leaders Association, said in a statement.
"However," she continued, "by continuing to evade collecting state sales taxes, Amazon's exploitation of a pre-Internet tax loophole is resulting in a 6 to 10 percent perceived price advantage over their competitors on Main Street."
Congress is considering a bill that will require some online retailers to collect state sales taxes when they sell something on the Internet. The measure would affect online sellers who do more than $1 million a year in business in the United States and have more than $100,000 in sales in a state.
The legislation, currently before the House Subcommittee on Courts, Commercial and Administrative Law, has divided two of the Internet's largest sellers: eBay and Amazon. eBay opposes the proposed law because it feels the measure will affect its high-volume sellers. It left the door open, though, to a law with higher exemptions.
Amazon, on the other hand, argues that the legislation is necessary to create a level playing field for all sellers. "Congress should not exempt too many sellers from collection, for these sellers will obtain a lasting un-level playing field versus Main Street and other retailers," Paul Misener, Amazon's vice president for global public policy, told a congressional committee last month.
Misener also couldn't resist an opportunity to rap rival eBay. "Both companies use sophisticated computing and communications technology to serve their seller customers," he said. "But, while Amazon is prepared to make its technology available as a service to help sellers by collecting sales tax for them, eBay seeks to avoid any role in collection, claiming that small volume sellers will be burdened and, implicitly, that eBay's technology is not capable of helping its largest sellers to collect."
Follow freelance technology writer John P. Mello Jr. and Today@PCWorld on Twitter.