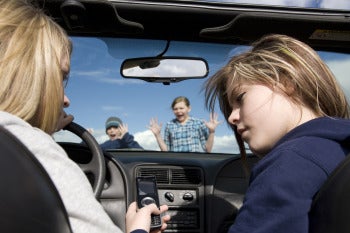 Despite the fact that 35 states have made it illegal, texting while driving has increased by 50 percent over last year, according to a new study [PDF] by The National Highway Traffic Safety Administration (NHTSA).
The numbers themselves seem pretty low; almost inconsequential: the increase was to 0.9 percent in 2010 from 0.6 percent the year before. But take into consideration the 3,092 deaths in 2010 that came as an untimely result of distracted driving and those numbers carry much more significance.
This study was conducted by staking out stoplights or busy intersections and physically counting the number of drivers who were manipulating handheld devices. The NHTSA also held a separate telephone survey of 6,000 drivers and found that 18 percent of adults admitted to texting while driving, and about 50 percent of drivers aged 21 to 24 said it was part of their repertoire.
It doesn't seem that the laws banning texting while driving are making much of a difference, as reports from the Highway Loss Data Institute and the Governors Highway Safety Association have stated previously. Awareness campaigns — such as the U.S. government's official Web site for distracted driving, Distraction.gov — also don't seem to resonate in drivers' flitting eyes (which obviously shouldn't be on Distraction.gov while driving in the first place).
NHTSA Administrator David Strickland said in a statement that the only matter that's clear in the organization's work is that "driver distraction continues to be a major problem" and focus on the issue needs to be amplified "through education, laws, enforcement, and vehicle design to help keep drivers' attention on the road."
Perhaps voice-controlled mobile assistants, like the iPhone 4S's Siri, will keep drivers' hands on ten and two as the technology rises in popularity and prominence. Besides that, though, what more can be done to eradicate this destructive problem?