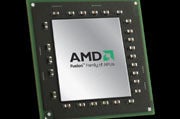 AMD is purportedly working on its own category of slimmed-down laptops as competition for Intel's Ultrabooks and the hugely successful Apple MacBook Air. While that might not be a big surprise to anyone (every computer manufacturer these days seems to be latching onto the thinner and lighter trend), it's interesting that sources say these ultrathin laptops with AMD processors may appear as early as next month.
Tom's Hardware via The Australian reports that AMD has been discussing the ultra-thin form factor with several computer makers, one of them "particularly advanced." Instead of providing design references and configuration mandates to its partners as Intel does, however, AMD will reportedly leave the adoption of its platform to the manufacturers.
These upcoming laptops may feature chips from AMD's new Brazos platform and upcoming Radeon HD 7000 graphics cards.
Not much else is known yet, but it's possible a few of these yet-to-be-declared AMD ultrathin laptops will show up at CES 2012 in January, alongside the 50 or so Ultrabooks expected to be launched there as well. The competition could be exciting.
Follow Melanie Pinola (@melaniepinola) and Today@PCWorld on Twitter.