At a Glance
Expert's Rating
Pros
Light weight makes it conducive for one-handed use
Convenient buttons
Cons
Plastic bezel attracts fingerprints
Occasionally feels sluggish
Our Verdict
With a touchscreen and a row of physical buttons beneath the display, this e-reader takes a different approach from its competition.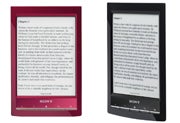 The Sony Reader Wi-Fi PRS-T1 is a slim and stylish e-reader whose unusual design sets it apart from the pack. Its core specs are on a par with those of the other big guns, too. In spite of this model's handy buttons, however, it stumbles in overall usability and navigation.
The Reader Wi-Fi carries a competitive price of $130 (as of December 9, 2011). That puts it at $31 more than the Barnes & Noble Nook Simple Touch, and less than the advertising-free version of the Amazon Kindle Touch. (Until December 24, 2011, though, Sony is offering the Reader Wi-Fi for $99. And through the end of the year, you can save an additional $50 by trading in an e-reader from any manufacturer.)
One of the Reader Wi-Fi's distinguishing attributes is the row of buttons on its front face. It has lots of buttons, in fact–something that its touchscreen competitors skip. The button navigation is consistent with previous Sony models. I found the arrangement convenient, particularly for one-handed page turns when I held the e-reader in my left hand.
In terms of design, Sony gets a lot right with the Reader Wi-Fi. This model is the narrowest of all e-readers available to date, And it ties the $79 Amazon Kindle (fourth generation) as the lightest e-reader you can buy, weighing just 0.37 pound. That light weight, together with the e-reader's narrow shape, makes the Reader Wi-Fi feel comfortable in the hand.
The Reader Wi-Fi looks stylish and svelte, as well. The MicroSDHC card slot sits under a snap-in cover on the back. At the bottom edge is a Micro-USB port for charging and for transferring data, plus a headphone jack and a power/wake button.
About half an inch up from the bottom of the e-reader is the row of physical navigation buttons: page back, page forward, home, return, and menu. Sony is the only manufacturer to offer physical page-forward and page-back buttons at the bottom of an e-reader, a feature that I found especially useful for those times when I held the e-reader in one hand by the bottom (something this model's balanced feel allows). Of the touchscreen e-readers currently out there, only the Barnes & Noble Nook also offers physical page-forward and page-back buttons, but those are awkward to press.
This Sony e-reader has a piano-black plastic bezel in lieu of the metal that previous versions used. The bezel is a fingerprint magnet (one of my few design complaints). The back feels good in the hand, with a smooth rubberized surface that makes the e-reader easy to hold.
I reviewed the Reader Wi-Fi in black (model PRS-T1BC), but it also comes in white (PRS-T1WC) and red (PRS-T1RC). Although the colors can be fun, in general I find a black bezel to be best on an e-reader, since that color typically enhances the e-reader's readability by giving the visual illusion of boosting contrast.
Performance
Speaking of contrast, the Reader Wi-Fi's display is typical for its competitive set. I liked the texture of the screen; it is a smooth, light gray, similar to that of the Amazon Kindle Touch and the Barnes & Noble Simple Touch, as opposed to the newspaper-texture gray background of the Kobo eReader Touch Edition. Like most of its competition, it offers eight type sizes (most of them useful) and six font options. The largest font is fractionally larger than on the Nook.
Text looked good and highly readable in my tests. And the infrared touchscreen was very responsive, even when I typed quickly on the on-screen keyboard. I like Sony's decision to include a narrow stylus for those people who prefer to use one, but since the e-reader lacks a place to store it, I never sought to use it. My fingers did just fine for navigation, and I could swipe my way through book pages, or even pinch and zoom to enlarge content. That said, you can use the stylus for handwritten input–another unique feature among e-readers.
I also found the physical buttons useful in combination with the touchscreen navigation. Between the two, getting around was easy.
My bigger gripe with the menus concerns their uninspired design. The angular, text-heavy appearance lacks the design sensibility one would expect from gear that looks as fashion-forward as the Reader Wi-Fi does.
You get two English-language and ten translation dictionaries, a nice addition for owners who use a lot of foreign-language texts. You can also look up words and information on Google or Wikipedia via the built-in but sluggish Web browser.
The Reader Wi-Fi supports PDF, Microsoft Word, and text files, in addition to EPub and Adobe Digital Editions books, as well as JPEG, PNG, GIF, and BMP image files. If you read a lot of text-heavy PDF files, take note: The Reader Wi-Fi has the rare ability to reflow text by changing the font size. Other e-readers have tried this technique before with mixed success, but the current models out there all rely on zooming in to the PDF, not reflowing–which makes a tremendous difference in the overall viability of reading text PDFs on the 6-inch screen.
The Reader Wi-Fi has 2GB of built-in storage. Sony says the battery will last for up to five weeks of reading (with Wi-Fi disabled). In addition to being tied to Sony's Reader bookstore, the Reader Wi-Fi supports public library lending in the United States and Canada, and it has a menu option for easily accessing free Google Books. Sony supports audio playback, but not for audiobooks.
Sony has released Reader desktop apps for Mac and Windows computers. The company hasn't released a mobile app for Apple's iOS, however, and its Google Android app lacks the polish of, say, Amazon and Barnes & Noble's offerings. Likewise, the Sony Reader store isn't as diverse as those two, though you'll still find plenty to like.
The Sony Reader Wi-Fi lacks the menu finesse and social media hooks that Barnes & Noble's Nook Simple Touch boasts. But its new pricing puts it right in line with its e-reader competition, and as a result it's an attractive choice, especially for people who prize light weight, navigation flexibility, and easy access to reading text PDFs.