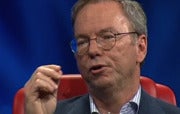 Google Executive Chairman Eric Schmidt has criticized Carrier IQ, the maker of a controversial app that secretly collects personal info from smartphones, but also says that Google can't do anything to prevent the software from being installed on Android devices by handset makers and wireless carriers.
Calling the software a "keylogger'–a label that Carrier IQ rejects–Schmidt explained that Android is an open operating system and, as such, Google cannot prevent the software from being installed on phones running the OS. Schmidt revealed this in a speech at a Google-sponsored conference on Internet freedom in The Hague Thursday.
"Android is an open platform, which means people can make software for it that's not very good for you," Schmidt said Thursday, according to The Telegraph.
"This [Carrier IQ] appears to be one [such case]," Schmidt added.
The Carrier IQ app was revealed last week, after researcher Trevor Eckhart revealed that he observed the software capturing keystrokes and recording web surfing activity on his phone. The story then snowballed as it was discovered that the app exists on about 150 million phones, including BlackBerrys, HTCs, Samsung devices, and Apple devices.
Denials, lawsuits, and government inquiries quickly followed.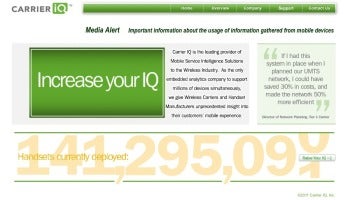 Apple admitted that the program does exist on iPhones, but says that the app has been disabled and will be removed during the next software update.
The nation's largest wireless carrier, Verizon, declared it didn't use Carrier IQ on its phones.
In St. Louis, a class action lawsuit was filed against Carrier IQ and HTC, claiming the two companies violated the federal Wiretap Act by surreptitiously installing the software on people's smartphones.
In Washington, Sen. Al Franken (D-Minn.) demanded Carrier IQ explain its business practices, and in Europe a number of regulators began launching probes of the software to ensure that the privacy of their citizens wasn't being violated.
Meanwhile, another researcher took a look at the app and concluded that not only was it not evil, but it was beneficial to phone owners.
"Consumers will have their own opinions about whether the collection of this data falls under the terms set by service agreements, but it's clear to me that the intent behind its collection is not only benign, but for the purposes of helping the user," says Dan Rosenberg, of Boston-based Virtual Security Research.
Follow freelance technology writer John P. Mello Jr. and Today@PCWorld on Twitter.