Google Thursday launched its new Currents App, a newsreader that's meant to compete with other virtual magazine style newsreaders, most notably Flipboard, a gorgeous iOS app that's received widespread acclaim for its interface. (Flipboard made the PCWorld Top 100 products list in 2010).
[Read: Google Offers Currents, a Flipboard-like App]
Currents packages news sources as magazines that you can subscribe to in Currents to get custom formatted stories from your favorite news sources. I spent some time with Currents to see if it has what it takes to best the competition. So far at least, the answer is no.
Currents Is Buggy
The first problem is that, at the moment, Currents has some rather large bugs. After I connected the app to my Google account and scrolled past the app's short tutorial, I tried to add a few of my favorite news sources to the app. While PCWorld and a few other sources did show up on my list, about half of them never showed up at all. It's tough to recommend a newsreader app that doesn't let me read my news.
Even giving Google the benefit of the doubt that Currents soon will work as intended, it just isn't as convenient as using a traditional RSS reader to keep track of your favorite sites. You can forgive that with an app like this to some degree. Magazine-style newsreaders like Flipboard trade functionality for absurdly attractive interfaces that make news reading a more enjoyable experience.
The problem is that Currents doesn't really bring anything interesting to the table in terms of the interface. The app is attractive enough but it doesn't do anything you haven't already seen if you've ever opened Flipboard.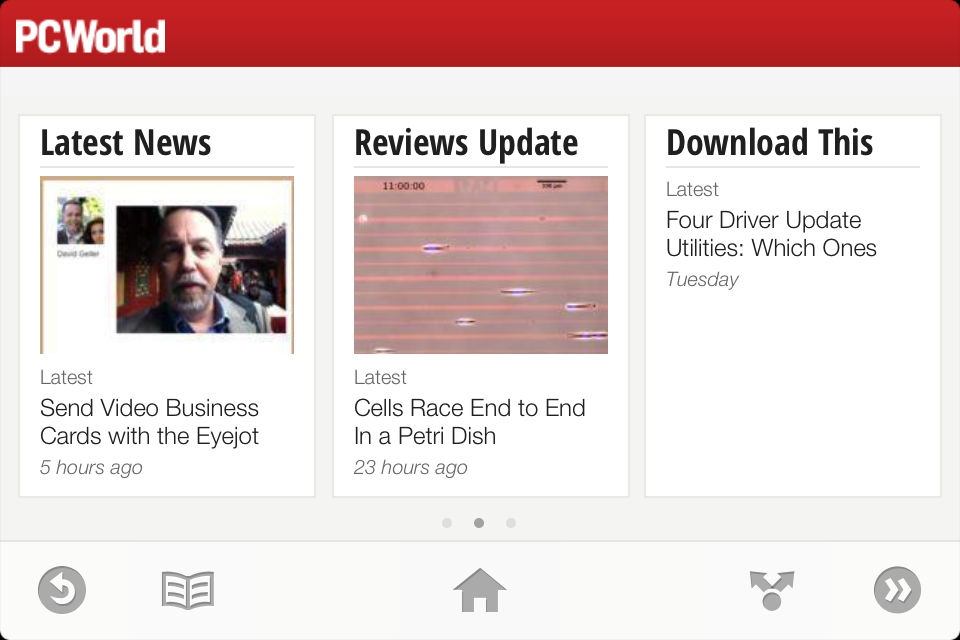 If you already have a newsreader solution, there isn't much reason to switch here. Currents isn't as powerful as most newsreaders, and isn't as pretty as other magazine style newsreaders.
The only thing that Currents really has an advantage over, say, Flipboard is that Google's app is available for Android devices whereas Flipboard is iOS only. Android users might want to look into magazine-style newsreader app Pulse instead, though, at least until Google gets the kinks worked out with Currents.
David Daw is a staff editor at PCWorld, you can follow him on Twitter or e-mail David at ddaw@pcworld.com. Follow Today@PCWorld on Twitter.