Ever since HP announced back in August that it was discontinuing its webOS tablets and phones, I have been hoping that it would open-source the technology–and sure enough, that's just what it's decided to do.
It was a long time in coming, but the news was announced earlier today.
"WebOS is the only platform designed from the ground up to be mobile, cloud-connected, and scalable," said Meg Whitman, HP president and chief executive officer, in the company's press release. "By contributing this innovation, HP unleashes the creativity of the open source community to advance a new generation of applications and devices."
Multiplatform Portability
HP will make the underlying code of webOS available under an open source license, enabling developers and manufacturers to use the Linux-based operating system in their own innovations. The company didn't specify which open source license it will use, or when the code will be released.
In any case, benefits of using webOS include a single integrated stack for multiplatform portability and a single Web-centric platform that can be run across multiple devices. For users, the result can be a "fast, immersive user experience," HP said.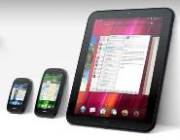 HP also plans to stay involved itself in the development and support of webOS, it says, as an active participant and investor. It may, in fact, even release webOS-powered tablets in 2013, according to a report on TechCrunch.
Either way, HP plans to contribute ENYO–the application framework for webOS–to the community as well, it said. Starting today, HP welcomes input on the HP webOS developer blog.
Power to the People
I'm thrilled with HP's decision, which will prevent the waste of a very promising technology and allow it to spark untold new devices and possibilities to compete with Android and iOS.
Android is already demonstrating the power of open source every day in the mobile world, and now webOS will expand consumers' choices even further. If there's anyone who can take a good technology and use it to create what people want, it's the people themselves.