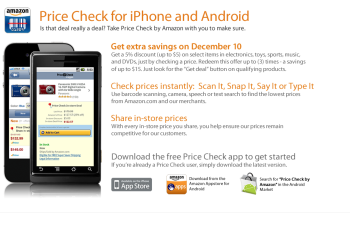 Amazon is giving comparison shoppers a quick-and-easy way to earn up to $15 in discounts, but the promotion is rubbing the online retailer's competitors and even some lawmakers in Washington the wrong way.
If you use Amazon's Price Check mobile app on Saturday to compare the price of an item in a brick-and-mortar store with what you can get it for at Amazon's website, Amazon will give you a 5 percent break just for going to the trouble.
The Price Check app is free and works on the iPhone and Android smartphones. To use it, you scan a product's bar code, take its picture or say or type its name. The app then gives you the Amazon price. If you decide you'd rather buy the product from Amazon — instead of the store you're standing in — you can put it in Amazon's online shopping cart where you'll get a discount if you complete the purchase within 24 hours.
You can use the discount on three items for a maximum of $5 off each, so the most you'll save is $15. The deal is only good on electronics, toys, sports, music, and DVDs. A product you're price checking also has to be an exact match to what Amazon is selling.
While the promotion is great for frugal shoppers, brick-and-mortar retailers are up in arms about Amazon's ploy to steal sales and say the online retailer has an unfair advantage because it doesn't pay sales tax.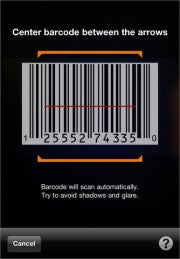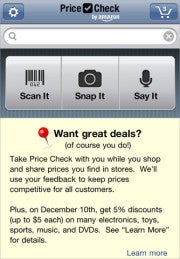 The Retail Industry Leaders Association said the offer unfairly encourages shoppers to check products at stores and then buy them online. And Sen. Olympia Snowe (R-Maine) called the promotion "anti-competitive" and "an attack on Main Street businesses that employ workers in our communities."
An employee of Powell's Books in Portland, Oregon, has even created an "Occupy Amazon" movement page on Facebook in protest of Amazon's tactic to lure shoppers to its site, even though the promotion doesn't apply to books. "Amazon.com has undoubtedly revolutionized commerce, but at what price? Is a $5 discount worth the loss of your local indie store?" she wrote.
While some people think Amazon's opponents have good points, most using the Price Check app will probably do it from a big box retailer, not those Main Street businesses that Sen. Snowe referenced.
And besides, anyone with a smartphone can always check the online price of any product, no app required. Price Check simply makes it easier to do so and Amazon's discount is just a way of getting more people using it.
Follow Christina on Twitter and Google+ for even more tech news and commentary and follow Today@PCWorld on Twitter, too.