Walking past laptop-toting digital nomads who huddle around the outlets lining the concourse, you arrive at your gate with 30 minutes to spare. You have a 6-hour flight in front of you, and a laptop and a smartphone that need a full charge to keep you working and listening to music throughout the flight. You stalk the gate area. The two available outlets on the payphone are taken. No outlets on the walls. The remaining minutes before departure tick down. A baby is crying. (Please, please, please, you think, don't seat me next to the baby…). "Final call for boarding." Your laptop has an hour of life left, and so does your phone. When both are dead, your noise-canceling headphones will be useless. You board and approach your seat. You're in 16B. The baby, in 16C, is already crying…

Another day in the friendly skies. It's happened before, and it will happen again. But it doesn't have to be that way. Airports across the country are installing more outlets and improving their Wi-Fi signals–but some are moving much faster than others. And fortunately, these days you have some measure of control: On many trips you have a choice of airports, terminals, and airlines. If you only knew what tech amenities were waiting for you at the airport, you might think twice before choosing an airline that flies out of gates like the one described above.
PCWorld sent researchers all over the country to canvass the gates of the 40 busiest airports in the United States and to identify the tech winners and losers. In all our airport auditors visited 3300 gates from coast to coast; they counted more than 17,000 electrical outlets, 5000 USB ports, and 1350 charging stations; and they performed hundreds of tests of airport Wi-Fi and cellular broadband service. For further details see "In Search of the Tech-Savvy Airport."
The charts on the following pages illustrate how each airport performed in these areas, with rankings of the top airports for overall tech amenities, the best terminals, and the best airports for Wi-Fi and cellular service. We also rated the major domestic airlines on their efforts to accommodate mobile, connected travelers–at the gates, in the planes, and online.
The Big Picture
Stepping back for a macro-level view of the data yields some interesting general findings about airports and airlines. For instance, the number of electrical outlets available in the nation's busiest airports is woefully inadequate. The average number of outlets (typically two AC plugs under a plate on the wall) for the U.S. airports we visited is about 5.5 per gate. But given that the number of wireless contracts for smartphones, laptops, tablets, and modems (almost 323 million, according to the wireless trade organization CTIA) now exceeds the U.S. population, most of the people waiting at any airport gate are likely to be carrying at least one such device. Take into account that mobile devices have notoriously short battery lives, and the traveler's dilemma comes into sharp focus. No wonder you see people walking forlornly through the gate areas looking for an outlet–any outlet–to plug in to.
Wi-Fi service on airplanes is similarly scarce. Only about a third of the planes in the fleets of the ten U.S. carriers have Wi-Fi onboard, meaning that many passengers must work offline during flight and then sync with other users, apps, and machines after the flight lands. But time and tech march on. Offering Wi-Fi on a flight no longer strikes airlines as a novel and exotic perk, but rather as something in line with the expectations of a growing percentage of the flying public. That's why airlines such as United and JetBlue have recently announced plans to outfit their fleets with Wi-Fi. We also noted a trend toward satellite-based (as opposed to ground-based) Wi-Fi that will work internationally, not just on domestic flights.
Airport Wi-Fi is a shifting landscape, too. Large operators like Boingo offer paid Wi-Fi in most U.S. airports, but airports are also moving to offer free Wi-Fi throughout the facility. Even so, fast, free Wi-Fi–such as that available at the Cleveland, Raleigh-Durham, and Seattle airports, among others–remains the exception and not the rule. Providing Wi-Fi service is expensive, and someone has to pay for it. Some airports rely on ad-based models, which require users to view an advertisement or take a poll before connecting for free. Others–mostly smaller airports–build the cost of Wi-Fi into their operating budgets just the way Starbucks does. But this approach is generally too costly for larger airports to pull off.
Other technology improvements, however, have become ubiquitous. Mobile check-in is one such advance. According to the U.S. Transportation Security Administration, of the 40 airports we visited, only one–Houston's Hobby (the older and smaller of the city's two international airports)–doesn't yet have the necessary phone scanners at security and at the gates to support it. Currently the airlines pick up the tab for these special scanners, but the TSA is said to be working out plans to buy the technology for all security checkpoints.
To come up with our rankings, we measured the tech amenities at the 40 busiest airports (as measured by number of boardings during 2010) in the United States, and then rated each one against its peers on the average number of electrical outlets, USB ports, charging stations, internet kiosks, and work desks that it offers per gate. We also performed a series of speed tests to measure each airport's Wi-Fi and major cellular services in numerous locations around the facility. We assigned a ranking to each airport based on overall speeds, with bonus points awarded to airports that don't charge for Wi-Fi. The airports that scored highest in our rankings offered a compelling mix of all of these services.
Top 20 Tech-Friendly Airports: #1 to #4
How do the airports that you visit most frequently stack up? Consult the best airports chart for a detailed look at the tech amenities offered at the 40 largest airports in the country. And for highlights of the tech top 20, read on, starting below.
#1 Dallas-Ft. Worth International Airport (DFW)
DFW doesn't have the most outlets, it doesn't have the fastest Wi-Fi, and it's not number one in work desks. But no other airport achieves such consistently high scores across so many categories. Dallas ranked near the top of all airports on six of the eight tech amenities that we measured.
As evidenced by the older ethernet port installations at 16 gates throughout the airport, Dallas-Ft. Worth has been serving tech-savvy passengers for longer than most U.S. airports. These days, wired ethernet ports are giving way to Wi-Fi access points and cellular amplifiers, to meet the needs of passengers who want to be connected and mobile. DFW's paid Wi-Fi service (through T-Mobile) produced respectable speeds in our tests, averaging 2.73 mbps for downloads airport-wide. The airport's cellular signal wasn't bad either: Verizon and T-Mobile clocked average download speeds of 4 mbps; AT&T averaged 3 mbps; and Sprint averaged 1 mbps.
DFW has benefited greatly from partners like Samsung, whose 64 charging stations, seven "mobile travel lounges," "power stations" (work stations with power outlets), and large flat-screen TVs are ubiquitous in the airport.
Augmented by the extra Samsung outlets, DFW boasts an average of 7.2 electrical outlets and 3.0 USB ports per gate. A fair number of internet kiosks and work desks (with outlets and USB ports) are scattered among the gates, too.
#2 New York JFK International (JFK)
Only a few years ago, it was nearly impossible to find an outlet at JFK. But more recently the airport has added numerous useful amenities, such as desks and counters with outlets, to some–but not all–of its terminals. JFK Terminals 2 and 3 (thanks in part to Delta) and Terminal 5 (thanks in part to JetBlue) offer the largest number of work surfaces and electrical outlets, as well as decent free Wi-Fi. Other JFK terminals look old and dull, with tech amenities to match. Your best option in those terminals is to buy Boingo wireless service or use your own cellular signal.
JFK's new Terminal 5, which opened in 2008 at a cost of $800 million, is spectacular. T5 is JetBlue's new primary U.S. hub, but it's more than an airport terminal. It's a glossy-looking cultural center filled with cool shops, upscale restaurants that look like clubs, and over-the-top architectural design; concerts are sometimes held there.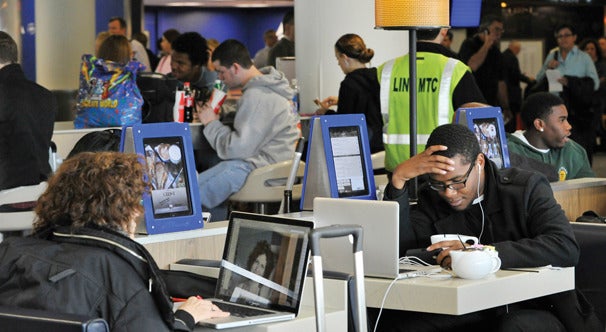 JFK Terminals 2 and 3 host some upscale restaurants, a few of which will take your order from an iPad kiosk in the gate area and bring your food out to you. Delta and its restaurant management partner OTG installed these iPads–more than 180 of them–which anyone can use to check email, surf the Web, and order food. Next to each one is an electrical outlet equipped with USB ports for charging your devices as you sit there. Sadly, the iPad kiosks have become so popular that finding an open one during peak traveling hours can be difficult.
Plans are in the works to expand the number of iPad kiosks and tables at Delta's JFK operations significantly in the next few years. OTG spokesperson Sean Aziz says the company plans to put the next wave of public iPads on tethers, so that users can hold the device in their hands and interact with the content more easily.
#3 Atlanta Hartsfield-Jackson Atlanta International Airport (ATL)
Atlanta is the busiest and the largest (170 gates) airport in the United States. Consequently, supplying passengers with power, workspaces, and Wi-Fi at all its gates is a massive undertaking. But Atlanta's airport authority seems to have risen to the challenge in recent years.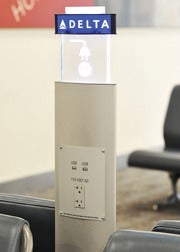 The airport ranked quite high among US airports in the number of passenger-facing outlets it offers at the gates. Only San Francisco, Sacramento, and New York JFK offer more per gate. Some of the credit for ATL's tech-friendliness goes to Delta, for which Atlanta is a major hub. Delta flies out of five of the six terminals at Hartsfield-Jackson and has installed multiple freestanding charging stations (three two-plug outlets and two USB ports) in all of them. The electrical outlets in the walls and poles of the airport facility itself, combined with those on the Delta stations, comes to a total of 1377 outlets, an average 8.1 per gate.
The airport has also invested in providing workspaces for working travelers. Clusters of 4, 8, 10, and 12 "recharge stations"–cubicle desks with power outlets–occupy 19 locations throughout the airport. They're perfect for business travelers who need to get some work in–and charge their devices–before taking off on their flight. We counted a total of 240 powered workspaces throughout the terminals at ATL.
Hartsfield-Jackson is also trying its hand at the mobile rewards business. It recently announced a program to allow passengers to scan QR codes on advertisements around the airport with smartphones to receive food, beverage, and retail discounts from restaurants and shops in the airport.
#4 Detroit Metro Airport (DTW)
Detroit Metro Airport's newest facility, the three-year-old North Terminal, was built from the ground up with the needs of device-carrying passengers in mind. "We planned from the beginning to wire each gate area so that we would provide numerous power outlets throughout the facility for customers to use," says DTW spokesman Scott Wintner. Apparently, the effort succeeded: We counted an average 6.7 outlets per gate at Detroit Metro.
"We also worked with Southwest Airlines in particular to accommodate their request for even more power outlets in its three gate areas, including USB outlets not yet found elsewhere in the North Terminal," Wintner says. Southwest has installed many of its between-chair charging stations, which house an electrical outlet and two USB ports, in the North Terminal, home to the Southwest gates. In fact, 110-volt outlets and USB charging ports can be found at almost every chair.
Delta has been another major tech sponsor at Detroit Metro, working with the airport to install Delta-branded charging stations equipped with three electrical outlets and two USB ports apiece. Each Delta gate at DTW has up to six of these charging stations.
Wi-Fi service at DTW (provided by Boingo) is respectable; we clocked average download speeds of 2.5 mbps in our tests. Boingo also provides data ports at hourly, daily, or monthly rates throughout the airport–offering a guaranteed connection if the wireless falters.
Top 20 Tech-Friendly Airports: #5 to #10
#5 Sacramento International Airport (SMF)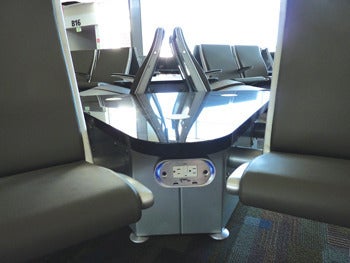 Sacramento International Airport's impressive new Terminal B is nirvana for mobile device users. Completed last year, it's packed with more than 140 triangle-shaped tables, each of which holds a standard two-plug outlet and two USB ports at the corners. We counted 647 outlets and 912 USB ports in Terminal B alone. SMF has offered free Wi-Fi at Terminals A and B since 2006.
"If that's not enough, there are fee-based Internet kiosks and rapid-charging stations and InMotion and Brookstone stores ready to sell batteries, chargers, noise-cancellation headphones, laptop adapters, and more to eager technophiles," says SMF spokesperson Laurie Slothower.
#6 Oakland International Airport (OAK)
On the plus side, Oakland International Airport offers ample outlets at the gate areas and a healthy number of USB outlets. On the negative side, you'll find a proper work deskonly every five gates, on average. Southwest has helped matters considerably by installing numerous charging stations–a small wooden table with a two-plug electrical outlet and two easy-to-access USB ports between pairs of large, comfortable chairs.
If you're lucky to find one of these between-chair stations, you can sit in relative comfort with your device charging beside you, though working on your laptop while it's parked on the wooden table can be a bit awkward. For travelers who can't find a comfy chair to sit in, Southwest has installed numerous "power stations"–tall walk-up tables usually studded with five outlets each.
#7 New York LaGuardia (LGA)
Like the Big Apple's other big airport, JFK, LaGuardia is an older facility that has become decidedly more tech-friendly in some respects over the past few years. The number of available outlets per gate now exceeds 7.2, and the airport's Wi-Fi service averages a workable 2.5 mbps on average throughout the airport.
Perhaps the most promising tech development at LaGuardia is the work of Delta and its restaurant management partner OTG. They've installed 70 iPad kiosks in Terminal D. As at JFK, travelers can sit at a high table (with outlets) and use the embedded iPad to access restaurant menus, flight updates, weather conditions, and online entertainment while waiting for their flights. The iPads at LaGuardia have been so popular that Delta and OTG plan to install an additional 400 of the devices by early 2012, OTG's Aziz says.
#8 Salt Lake City International Airport (SLC)
Like many other airports around the country, Salt Lake City International has been adding electrical outlets to its gates over the past few years–and today the gates at SLC provide an average of 5.4 outlets and 3.0 USB ports each. We counted 23 workspaces (19 desks and 4 cubicles) scattered around the airport, most of which included a power outlet. We didn't spot any Internet kiosks or business centers, however.
The Wi-Fi service at SLC is free, and it's faster than the 40-airport average. In our tests, the Salt Lake City airport's average Wi-Fi speed was around 2 mbps for downloads airport-wide, and 2.2 mbps for uploads. As for the cellular service, Verizon LTE pumped out average download speeds of 4.3 mbps, while Sprint averaged 2.2 mbps, and AT&T and T-Mobile each averaged 1.3 mbps.
#9 Baltimore-Washington International Thurgood Marshall Airport (BWI)
BWI bills itself as the "easy come, easy go" airport, since it offers a relatively stress-free commute for laptop and smartphone users who live in the District of Columbia, Maryland, or Virginia.
Baltimore-Washington Airport averages more than 7.3 outlets per gate; and many of the gates feature comfortable seats and work stations, with access to power outlets and USB ports. These come courtesy of Southwest, which operates in 26 gates in the A and B terminals, accounting for 70 percent of traffic through the airport.
But BWI's greatest strength is its Wi-Fi service. We measured an average download speed of 6.5 mbps and an average upload speed of 2.5 mbps in our tests throughout the airport's five concourses; those numbers make BWI's Wi-Fi service the fifth-fastest among major U.S. airports. The airport currently offers a fee-based service, but like many other airports, it is looking into the possibility of introducing a free service sometime next year.
Cellular service at Baltimore-Washington wasn't bad either. In our tests, the average download speeds for the four major carriers were 4 mbps for Verizon, 3.22 mbps for AT&T, 3 mbps for T-Mobile, and 1.76 mbps for Sprint.
#10 San Francisco International Airport (SFO)
Competing with Oakland International and San Jose International to serve perhaps the most tech-savvy market in the country, San Francisco International Airport must contend with travelers' high expectations regarding tech amenities. For the most part, it delivers. The airport averages 13.6 outlets per gate, by far the most in the United States for such a large airport.
SFO has some older terminal buildings, but the spanking new Terminal 2–home base for Virgin America–may represent the future of air travel. T2 is simple, clean, and spacious, with a distinctly high-tech ambience: It looks and feels like Silicon Valley.
Virgin America played a major role in designing the terminal, right down to the signature mood lighting that Virgin America uses at its ticket counters and gates. The interior is filled with cool lounge areas and tastefully appointed gates that make you feel as if you're in someone's living room. Even more important, the place is loaded with electrical outlets and spacious desktops. We counted almost 400 outlets and 144 workspaces in T2 alone.
The other terminals at SFO have a fustier feel to them, but designers have retrofitted plenty of those terminals' gates with new outlets in the walls and on poles; and many gates now also have sets of two- or four-cubicle desks, complete with electrical outlets.
Top 20 Tech-Friendly Airports: #11 to #20
#11 Ft. Lauderdale-Hollywood International Airport (FLL)
Ft. Lauderdale-Hollywood Airport isn't big on electrical outlets (2.65 per gate, on average), and it provides less than one USB port and less than one work desk per gate, on average, but its free Wi-Fi service is terrific. We measured average download speeds of 11 mbps and uploads of 7.25 mbps in our Wi-Fi tests. Verizon cellular service was exceptional, too, averaging 11 mbps for downloads and 7.5 mbps for uploads.
#12 Raleigh-Durham International Airport (RDU)
Some of the seats in the gates at Raleigh-Durham International have power outlets, and some of the tables have USB and power outlets beneath the tabletops. But like Ft. Lauderdale-Hollywood, RDU ranks high on our list because of its Wi-Fi. Though the AT&T service isn't free, it's fast; we measured average speeds of greater than 14 mbps throughout the airport–the fastest airport Wi-Fi service we saw in our tests.
#13 Nashville International Airport (BNA)
Nashville's airport provides 20 minutes of free Wi-Fi per user, after which you have to buy a day-pass from Boingo. Still, Boingo's service is solid at BNA, averaging 2.8 mbps for downloads throughout the airport, and you can pay as you go for $4.95 per hour. Delta and Southwest have tricked out their gate areas in the B and C concourses, respectively, with freestanding charging stations that include USB ports.
#14 Minneapolis-St. Paul International Airport (MSP)
Many of the gates at Minneapolis-St. Paul International airport have free charging stations, including Samsung "power poles," Clear Channel sit-down charging stations, and Delta charging stations. The airport also offers "power seating": Many of the tables in the food courts and in some of the restaurants have power outlets nearby, so travelers can recharge their devices as they eat. MSP also has a few business centers for users who need a desk and some quiet.
Delta has announced plans for an iPad installation in the G concourse at MSP similar to its installations at New York's JFK and LaGuardia airports. Passengers will be able to sit at an iPad kiosk or restaurant-style table and order food from 12 different restaurants in the terminal. Work on the new installation is slated to begin in 2012, and should take 18 months to complete.
Delta and restaurant management partner OTG also plan to introduce a "media bar"–a virtual newsstand where passengers can rent an iPad and load it up with publications, movies, music, and apps to enjoy during their flight. Upon reaching their destination, travelers will be able to return their iPad by dropping it into a prepaid postage box.
#15 Chicago Midway International Airport (MDW)
Surprise! The tech-friendliest airport in Chicago isn't the giant O'Hare. It's the smaller Chicago Midway, which features groups of powered workspaces with power outlets at three gates. These workspaces are especially good for working travelers who want a flat surface for their laptop and who have a smartphone in need of charging before the flight, too.
#16 Cleveland Hopkins International Airport (CLE)
Cleveland makes our Top 20 on the strength of its Wi-Fi service, which is both free and fast. In our tests the service delivered average download speeds of 8 mbps, and average upload speeds of 6.8 mbps–more than enough speed to stream movies, and perhaps do a little video chatting with the folks back home.
Cleveland International's other stats weren't as impressive. The airport averages just 2.9 outlets per gate and 0.7 USB ports per gate. And pity the person who comes to CLE needing a desk to work at: They're in short supply.
#17 Los Angeles International Airport (LAX)
LAX is the nation's third busiest airport, a sprawling affair with eight domestic terminals and one international terminal. We counted an average of 5.3 outlets per gate, many of them on the 51 Samsung charging poles located at gates throughout the airport. LAX also sports a fair number of Neptune Networks internet kiosks, which charge users 25 cents per minute.
#18 Seattle-Tacoma International Airport (SEA)
At Sea-Tac we found just 2.7 electrical outlets (on average) per gate, and not many USB ports, either (0.4 per gate). You will find Smarte Carte rapid phone charging stations (at $3 for a charge) in all terminals, and the airport's Wi-Fi service is more than respectable, with averages of 5.7 mbps for downloads and 4.5 mbps for uploads in our tests.
#19 Kansas City International Airport (MCI)
Kansas City International is well-outfitted for tech travelers, especially at Southwest's gates. The airline has installed plenty of big, comfy chairs that have a little wooden table attached, plus power and USB ports. You'll also find a healthy number of Southwest's standing bars, equipped with up to ten two-plug outlets, which are perfect for a quick charge and an email check before your flight.
Overall, Kansas City International averages 4.2 outlets per gate and 4.9 USB ports per gate. The airport's Wi-Fi service averaged a workable 1.4 mbps for downloads, and its cellular service clocked in at an above-average 3.35 mbps for downloads.
#20 Portland International Airport (PDX)
Despite its painfully slow (but free) airport Wi-Fi, Portland International edges out Las Vegas International for the final spot in our Top 20, simply by showing up in all categories. PDX averages 5.6 outlets per gate, and it has charging stations, USB ports, and work desks in every terminal, though we'd like to see more of them. The airport also has business centers with desks and outlets in every terminal, and the local T-Mobile and Sprint cellular service proved to be surprisingly fast, averaging 4.2 mbps for uploads and 3 mbps for downloads, respectively.
The Most Tech-Friendly Airlines
Airport authorities aren't always the primary providers of tech niceties. That role often falls to the airlines themselves, which have noticed that electrical outlets, work desks, and zippy Wi-Fi can influence passengers' decisions to fly on Airline A or with Airline B. As a result, some airlines have become very active in making their gate areas a more welcoming place for laptop and smartphone users.
Delta leads the pack in this area. The airline has upgraded about 20 of the airports where it operates with Delta-branded charging stations. As our survey results indicate, the stations have made a huge difference in the number of available outlets and USB ports at the gates. And Delta's iPad installations at New York's JFK and LaGuardia airports, and (soon) at Minneapolis-St. Paul International are truly impressive.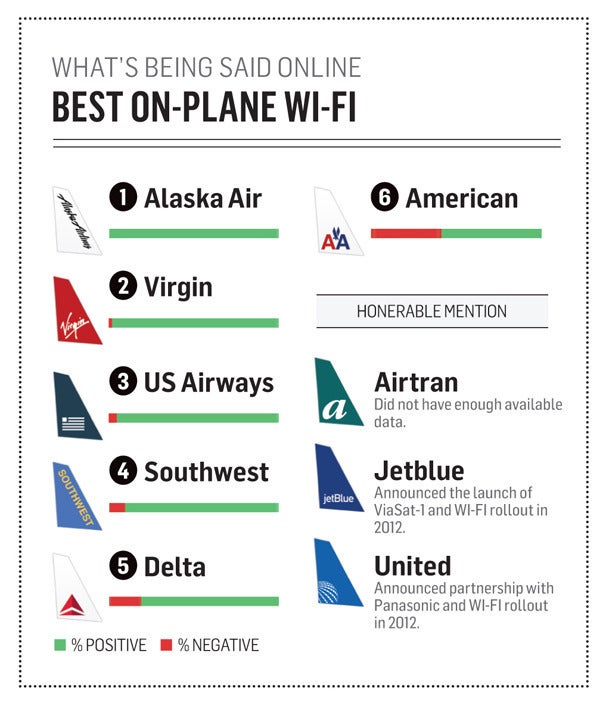 Delta's tech focus doesn't stop at the gate. All of its large domestic aircraft now offer Gogo Wi-Fi on board. The carrier is looking for a way to outfit its 250 international aircraft with Wi-Fi, since Gogo's ground-based service can't reach beyond 100 miles offshore.
Aside from the usual array of features (flight updates, mobile boarding passes, seat maps, and so on), Delta's Fly Delta mobile app offers capabilities that most other airline apps don't–such as the ability to track your checked bag by scanning your bag tag with your smartphone. User reviews in the app stores are generally positive, though the app does lose a few points for not letting users book new flights; you can use it only to change existing reservations.
Delta also has the strongest presence of any airline on both Twitter and Facebook. The company allows customers to book travel directly from Facebook, and it offers the @deltaassist hashtag on Twitter for people who run into support issues. Delta's "social media lab" is peopled by regular customer service reps who watch for Delta customers tweeting their problems or complaints, and then provide support in real time over Twitter or other channels if necessary.
Delta says that its social networking efforts pay off both financially and in customer loyalty. "We want to engage with our customers with our digital channels as much as possible," says Delta's vice president of e-commerce Bob Kupbens. "We feel it's a great way to improve customer service. It's a way for us to get people out of line and off the phone, which is good for the customer and good for Delta."
Megan Geuss and Leah Yamshon performed research for this story. PCWorld would like to thank the following companies and organizations for their support of our study: Samsung, Novatel, Delta Airlines, Southwest Airlines, Virgin America, and the airport authorities around the country that allowed us access behind security to conduct our research. A special thanks goes to our research team, the fearless men and women who canvassed the nation's airports over the past four months to gather the data behind this story.