Asus' Transformer Prime, the red hot tablet that is a potential challenger to Apple's popular iPad 2, could make it under a few Christmas trees this year after all.
After many feared the tablet would be delayed until next year, reports now quote Asus as saying it will ship December 19. If that holds true, it would be good news for consumers eager to snap up the Android tablet in time for the holidays.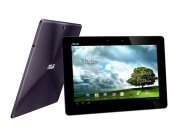 Late Friday night, Dec. 9, a rumor was circulating that the much anticipated ASUS Transformer Prime would be delayed because of WiFi problems. A fresh report from SlashGear, however, reports the tablet will start shipping in about a week. ASUS now says it is trying to figure out who released the statement about a supposed WiFi-related delay in shipping.
"At this point, we still show to be on schedule to start shipments the week of 12/19. I will provide an update once I have additional information," an ASUS spokesperson said.
It will be interesting to see what actually happens considering the ASUS statement suggests an additional update will be coming and the words "at this point" are a bit waffling. It's also unclear if the statement applies to everyone wanting to buy one of the blazing hot tablets, or if the December 19 ship date is only for those who already put in their pre-orders.
Previously, Amazon and other online retailers had been canceling pre-orders of the tablet due to low supply. Such delays have been a disappointment to many because the quad-core tablet has been getting rave reviews, thanks in large part to its keyboard docking station, which lets the Transformer Prime behave like a laptop.
In fact, the Transformer Prime might end up being a real iPad 2 challenger since it offers some better specs and more storage at a lower price compared to Apple's tablet. It doesn't have 3G, however, which some buyers want, although it's a non-issue for anyone with a mobile hotspot device.
Stick with PCWorld for updates.
Follow Christina on Twitter and Google+ for even more tech news and commentary and follow Today@PCWorld on Twitter, too.