Google's integration of its social networking service into its e-mail platform is a welcome change because it makes adding people to Circles and sharing photos super easy.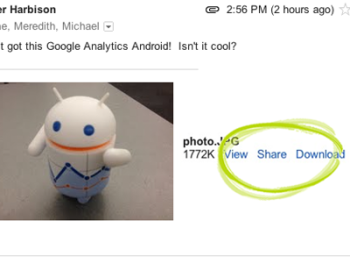 The feature Google+ users will probably appreciate most is the ability they now have to post photos they receive in Gmail directly to Google+ without having to download the image, then upload it to Google+.
According to the Official Gmail Blog, Google will be rolling out that change and others over the next few days to Gmail, Gmail Contacts and the "standalone" version of Google Contacts at contacts.google.com, although Google Apps users will have to wait a bit to see Contacts updates.
So, is Google pushing Google+ too much? For Google+ users, probably not. Many of those who use it are big fans.
And in spite of early claims that the platform would never take off, Google is by no means giving up on it. In fact, its Pages for companies feature is becoming increasingly adopted by many in the business community, as an alternative or, more likely, an addition to Facebook Pages or Twitter Profiles.
Even Gmail users who have tried Google+ but still find themselves spending most of their time in Facebook might end up hanging out more on Google's social platform. Just by nature of visibility alone, Google is making it pretty easy to use Google+ directly from Gmail, where many people spend a great deal of time every day.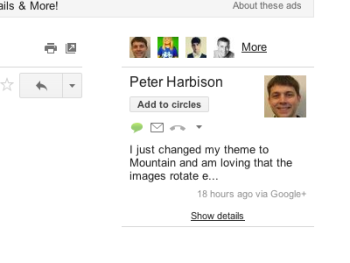 Other changes include:
— If you're a Gmail and Google+ user and you open an e-mail from someone who also uses Google+, you can now you can see the most recent Google+ post they've shared with you right there in Gmail. If they're not in your Circles, you can add them without leaving Gmail, a feature that Google hopes will bring more people into its social network. It's a tactic that will probably work considering that heretofore you had to jump over to Google+ separately to add someone to a Circle.
–The new integration also lets you filter your e-mail by Circles. If you only want to see e-mails from family members, for example, you can (assuming that you created one such Circle in Google+ and any of those people have e-mailed you). The integration also automatically updates contact information by syncing information people have shared on their Google profile.
One thing is sure, in time you can expect more coalescing of Google+ with other Google products. Since its public launch in September, Google has integrated a dozen more major products into Google+, turning them into de facto features, points out Computerworld.
Follow Christina on Twitter and Google+ for even more tech news and commentary and follow Today@PCWorld on Twitter, too.