I'm a big fan of saving money. (Today's economy being what is, that's a no-brainer.) That's why, when I buy something online, I always hunt (i.e. Google-search) for a coupon code I can use during checkout.
Alas, most of the time I come up empty. Either there's no code for the store in question, the code doesn't apply to what I'm buying, or it's invalid or expired.
That's why I'm a new fan of sites like Ebates, which make saving money more of a sure thing. Ebates is a cash-rebate service that works much like a Discover card: you get money back on almost everything you buy.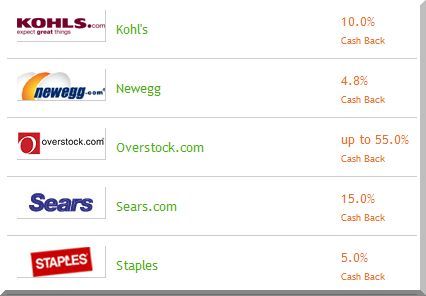 How much money? It varies from store to store, but usually it's a few percentage points. Like to buy cosmetics from Lancome, for example? Do it through Ebates and you'll get back 7% of the purchase price. Shop Barnes & Noble and get 4% back. Heck, you can even get 1% from the Apple Store and 3% from Groupon.
That may not sound like much, but it adds up. And because Ebates issues its payouts every three months, you could end up with a decent chunk of rebate if you shop online a lot.
(By the way, today only–Dec. 12–Ebates is offering double the cash back for over 500 stores. That means 2% from Apple, 8% from Barnes & Noble, 14% from Lancome, and so on.)
Using Ebates is surprisingly hassle-free. After signing up for an account (which is free), you just head to the site and then click through to the store you want to shop. After you make your purchase (at the regular price), Ebates calculates your rebate and adds it to your account. As noted earlier, you get rebates every three months, which can come via check, PayPal, or even a donation to your favorite charity.
By the way, it doesn't matter if the item you're buying is on sale or you do have a coupon code–you still get your rebate!
Ebates isn't the only cash-back game in town; others include BigCrumbs and FatWallet Cash Back. Want to know which site is offering the biggest rebate for a particular store? Head to CashReporter, which aggregates the discounts for all the popular rebate sites.
If all this sounds too good to be true, well, I've yet to find a downside. My overall take: If you like to score a good deal, shop online. And if you want to make a good deal even better, start your shopping at a site like Ebates.
Agree? Disagree? Share your thoughts in the comments!