Amazon picked up on users' complaints about its Kindle Fire and promises disgruntled customers a software fix is on the way. The bug fix is coming "in less than two weeks," an Amazon spokesperson told the New York Times, and will be rolled out over the air.
The $200 Kindle Fire is Amazon's inexpensive alternative to Apple's iPad and analysts expect it to become the number two tablet by sales. But the first customers of the tablet are less than impressed with the device and aired their annoyances on Amazon's site, which shows 609 critical one-star reviews and 415 two-star reviews. The Kindle Fire has more than 2200 five-star and 900 four-star reviews, while in PCWorld's review, the Fire received 2.5/5 stars.
The biggest gripes of early Kindle Fire users include performance issues, the lack of security and parental controls which can lead to children viewing inappropriate content or racking up huge content bills, slow Web browsing experience, and jittery scrolling.
"It actually hurts my eyes to try to watch the screen as it scrolls, it stutters and jitters in a very unpleasant way, I can only describe it as a strobe effect," says one disgruntled customer on Amazon's Kindle Fire reviews. "The browser is EXTRAORDINARILY SLOW [emphasis theirs]. With or without Amazon preloading. It's painfully slow," another Fire owner writes.
"The problem is that the Fire does not have anything like the functionality or polish or speed of an iPad," one customer complains. "Animations are sluggish and jerky — even the page turns. Taps often don't register. There are no progress or `wait' indicators, so you frequently don't know if the machine has even registered your touch commands."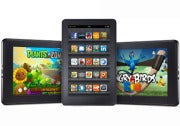 Another Kindle Fire owner even wrote an open letter to Amazon CEO Jeff Bezos, saying the tablet's "basic user interface has failed. The OS is so poor that what would have been a Thanksgiving full of showing off my Fire ended up with me demonstrating how choppy and unpredictable the Fire browser is."
The software update is expected to fix some of these issues, but it's unclear which user problems Amazon will address first. Users also complained about some hardware design choices on the Fire, such as the lack of external volume buttons. Some bemoaned the positioning of the power button, which is at the bottom of the tablet and can easily pressed by accident.
Amazon might be able to satisfy unhappy some Kindle Fire owners with a software update that fixes software performance issues, but the hardware gripes must be addressed in a future hardware update, possibly featuring a larger, 8.9-inch display, set to arrive later in 2012.
Follow Daniel Ionescu and Today @ PCWorld on Twitter