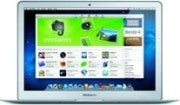 Apple's Mac App Store has delivered more than 100 million downloads since launching in early January, the company announced Monday. The Mac App Store is Apple's online retail outlet for PC applications for Macs running OS X 10.6 Snow Leopard or higher. While topping 100 million downloads is a far cry from the one billion downloads the iOS App Store sees every month, it proves the Mac App Store is popular with Mac users.
Even though the Mac App Store has logged impressive downloads, third-party developers don't appear to be racing to get their apps into Apple's software store. Apple has yet to announce how many programs are available in the Mac App Store beyond saying users have "thousands" of apps to choose from. Yet the company has no problem announcing the iOS App Store's current count of more than 500,000 apps.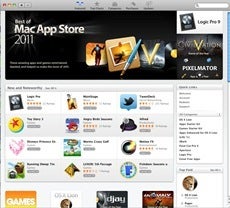 But the iOS App Store is the sole source for purchasing applications for your iPad, iPhone, or iPod, unless you're willing to jailbreak your device. So developers looking to create mobile applications for iOS have little choice when it comes to distribution channels. The Mac App Store, meanwhile, is just one of several places to download applications for your Mac. You could choose instead to download software directly from a company's website, buy a copy on DVD, or purchase downloads from outlets such as Amazon's Mac store. The advantages the Mac App Store offers over its competitors are automatic installation and upgrade processes similar to how iOS apps are managed.
Before the Mac App Store launched there was some concern the store would spark a "race to the bottom" mentality among developers. Those looking to make a quick buck would undercut their competitors' pricing. Or developers would be forced to price their apps in the iOS app price range of 99 cents to $4.99 to meet expectations from customers accustomed to getting cheap software on their iOS devices.
That concern doesn't appear to have materialized, as some apps, such as AutoDesk's AutoCad LT, are priced as high as $900. In comparison, the makers of image editing software Pixelmator announced its $30 app had grossed one million dollars in sales during its first 20 days in the Mac App Store. (The original version of Pixelmator released in 2007 did cost $59.)
Mac App Store Leads the Way
Apple's Mac App Store appears to be a trendsetter, as Microsoft plans to follow its rival's lead with the Windows Store in 2012. The Windows Store will allow Windows 8 users to seamlessly download and install apps for Microsoft's new touch-centric Metro-style interface. Traditional desktop apps for Microsoft's new OS will continue to be available from third-party sources the same way they are today in Windows 7.
You could argue that the Windows Store is more directly inspired by the iOS App Store than its Mac counterpart. While Mac users have the ability to choose download sources other than the Mac App Store, Microsoft says the Windows Store will be the only source for home users to purchase, download and install Metro-style apps in Windows 8.
Connect with Ian Paul (@ianpaul) and Today@PCWorld on Twitter for the latest tech news and analysis.