Most Kindle Fire users have had a few weeks to get to know Amazon's e-reader/tablet hybrid, and the reviews are decidedly mixed, with many users pointing to the same flaws.
The device's lack of external volume controls, awkwardly placed off switch, slow web browser, heavy weight, minimal storage space, and inconsistent touchscreen responsiveness are among the most frequently seen complaints in reviews and user forums.
"Inconsistent touch screen sensitivity. It is maddening. I find myself reaching for my iphone to compensate," says user Beagle93 on kfireforum.com.
There are plenty of positive reviews of the Kindle Fire, to be sure. It still averages 4 out of 5 stars from the more than 4000 reviews of the slate on Amazon. But even most positive reviews can't help but make light of the Fire's more glaring flaws.
"I am not a fan of the Carousel, the power button IS in a very vulnerable position, and the touchscreen sensitivity could be increased a notch. All these are minor nits, overall very pleased," says kfireforum user beawchan.
The Fat Finger Problem
Other complaints frequently citedby users include what analyst Jakob Nielsen calls the "fat finger problem."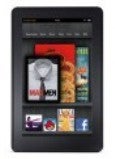 "The most striking observation from testing the Fire is that everything is much too small on the screen, leading to frequent tap errors and accidental activation," Nielsen writes in his usability report on the Fire.
It's a problem echoed by several users on the forums. Nielsen described one user with wide digits who spent several minutes just trying to log in to Facebook. Nielsen notes that in general, everything is just too small on the Kindle Fire, and many users say they have problems navigating the tiny fonts that often pop up in the web browser.
iPad Expectations
For months before its official announcement this fall, rumors and hype swirled about Amazon's upcoming tablet — the term "iPad killer" was thrown about regularly. But the iPad and Kindle Fire are different devices with very different specs, often leaving those expecting Amazon's tablet to be an inexpensive substitute for the iPad deeply disappointed. Reports of Kindle Fires being returned or unloaded after just a few weeks of use aren't hard to find.
"The Fire was my first Kindle and I hated it; web surfing too slow, unresponsive screen touch, device too heavy," writes Jose Lagardera of Miami in a review on Amazon. "I sold it on Craigslist for $165."
"After all is said & done. The IPAD2 was 3 times the price and worth more than three times the value," adds New York's Shelly Kozel in another review.
Updates Coming
Amazon has announced an over-the-air update coming soon will address some of the software-based complaints, with possible changes to the carousel function that frustrates many users, and a much-needed privacy upgrade. Right now, a full activity history is available to anyone who picks up the device, without any user controls.
Of course, many of the most persistent complaints with the Kindle Fire are hardware issues, but many believe Amazon is already hard at work addressing those issues and plans to release an updated Kindle Fire sometime in 2012.
E-mail Eric at EMackPCW at Gmail, follow him on Twitter, and at ericmack.org. Follow PC World on Twitter, too.