Jonah Langlieb asked how to send Google Calendar notifications to any cell phone.
The problem with a calendar on a desktop computer–even one that keeps its data in the cloud–is that you need a connected web browser to access it. A one-hour reminder that you have a 7:00 appointment won't do much good if you're away from your computer at 6:00.
If you use Google Calendar and have an Android phone or tablet, this is no big deal. The calendar that comes with the mobile device pretty much gets synced with the one in the cloud automatically. Of course it does; they're both by the same company.
Syncing Google Calendar with an iPhone, iPad, or iPod Touch isn't much trouble, either. Just follow these directions.
But you can also set up Google Calendar so that it will text appointment reminders to any cellphone–smart or dumb. If your plan doesn't include unlimited texting, this will cost you a bit, but not much.
Here's how to set up Google Calendar for any phone: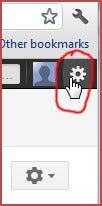 In Google Calendar, click the tool icon in the upper-right corner (if you see more than one, you want the one in the black band). Select Calendar settings. At the top of the screen, click Mobile Setup and fill in the form–including your cellphone number and the verification code that Google will text you after you've given it your number.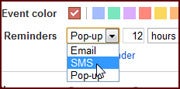 To be notified by phone of a particular appointment, go that that appointment's Edit event screen. You can do this by either clicking Edit event in the popup or double-clicking the event. Then scroll down to the Reminders section. To send a reminder to your phone, select SMS from the pull-down menu.
Contributing Editor Lincoln Spector writes about technology and cinema. Email your tech questions to him at answer@pcworld.com, or post them to a community of helpful folks on the PCW Answer Line forum. Follow Lincoln on Twitter, or subscribe to the Answer Line newsletter, e-mailed weekly.