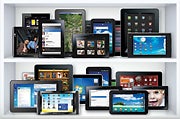 Tablet owners overwhelming prefer Wi-Fi-only devices over those with cellular connections, according to a new study by Connected Intelligence, a service from market research firm The NPD Group.
Slate users are relying more and more on Wi-Fi for a number of reasons. According to Connected Intelligence vice president Eddie Hold, consumers are concerned about the high price of cellular data plans, and they're willing to rely on Wi-Fi instead.
Verizon Wireless, for example, offers three monthly plans for iPad 2 buyers: 2 GB of data for $30; 5 GB for $50; and 10 GB for $80. Tablet buyers who pay a pricey monthly cellular bill for their smartphones are reluctant to add a second data plan for their slates, deciding instead that Wi-Fi connections are good enough.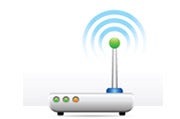 Connected Intelligence reports that in April 2011, 60 percent of tablet owners used only Wi-Fi to go online, and just 5 percent of them said they intended to buy a cellular data plan within the next 6 months. By October, the number of tablet users using only Wi-Fi dad grown to 65 percent.
Wi-Fi (Nearly) Everywhere
The number of public Wi-Fi hotspots may increase by 350 percent in the next four years, according to a recent study by market research firm Informa Telecoms and Media. Considering the steady rise of free Wi-Fi at retailers, restaurants, and coffee shops (e.g., McDonalds and Starbucks), it's easier for tablet owners to pass on a mobile broadband plan.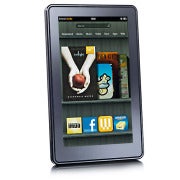 Newer, Wi-Fi-ready tablets with lower price points, specifically the Amazon Kindle Fire, don't even offer a cellular data option. With the rapid rise of higher-speed Wi-Fi in the home, tablet buyers are finding that they can connect to the Internet most of the time. For always-on connections, consumers are relying on their smartphones, many of which function as mobile hotspots.
According to a recent Google study, tablets tend to be homebodies. While consumers take their smartphones and laptops out of the house, they keep their tablets at home and use them mostly on the sofa, in bed, and in the kitchen.
Contact Jeff Bertolucci at Today@PCWorld, Twitter (@jbertolucci) or jbertolucci.blogspot.com.