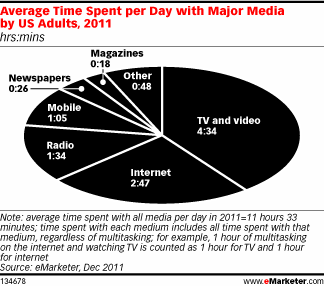 Adults are spending more time with their mobile devices than they're spending with print media, according to a report released Monday by eMarketer.
According to the New York-based market research firm, the average adult consumer spends 65 minutes a day on their mobile device, while they spend only 44 minutes with print media–26 minutes with newspapers, and 18 minutes with magazines.
This is the first year since eMarketer began taking their time tally in 2008 that adults have spent more time with mobile devices than with print.
What we don't know from eMarketer's findings, however, is how much of that time spent with mobile devices is spent reading newspapers and magazines online or in apps on a tablet.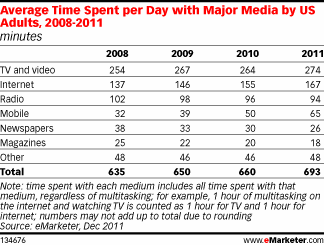 Meanwhile, despite reports of a growing trend of consumers cutting their pay TV services, eMarketer found that adults are actually spending more time than ever in front of the largest screen in the house. The average adult spent four hours and 34 minutes each day watching TV and video on a traditional television set this year, up 10 minutes from last year, the company estimates.
This should be good news for cable providers, some of whom are reported to be considering slapping usage fees on their broadband customers to offset lost viewers on their pay-for-TV side of the business. However, we don't know how many of these TV fans are using connected and smart TVs and watching shows off of Internet services such as Netflix and Hulu.
Follow freelance technology writer John P. Mello Jr. and Today@PCWorld on Twitter.