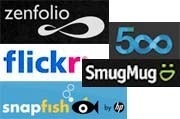 How do you share your photos? When I was a kid, "photo sharing" often meant sitting in a photo booth and then giving away the picture strip that it produced. (See how to make a modern, digital version by reading "Turn Your Digital Pictures into a Photo Strip.") Of course, these days, the easiest way to share photos is by posting them online at a photo sharing site.
And there is no shortage of such sites, either; I've lost track of how many photo sharing sites let you post your snapshots online. So this week, I've rounded up my five favorites. Any one of these sites can host your photo collection and help you share them with friends and family. They're not all equal, though; some are free, some aren't, and a couple offer premium features that make it worth paying a little cash.
Even if you only know photo sharing sites in passing, you certainly know Flickr. It's sort of like the YouTube of photos–a massively popular clearinghouse for everyone's photo collections.
The most common way to use Flickr is with a free account, though the free version of Flickr is almost painfully restrictive, especially if you are an enthusiastic photographer who posts a lot of photos. You can upload 300MB worth of photos each month–depending upon the size of your photos, that's perhaps 100 photos–though only your most recent 200 photos are visible at any given moment. Moreover, only low-resolution versions of those images can be downloaded from the Web site. Flickr never discards anything, though; if you pay the $25 annual fee for a Pro account, your page instantly "lights up" with all the photos you've previously uploaded, and the full sizes are available as well.
Flickr allows you to upload video clips, but the site treats video like that cousin you never really liked. You can upload only two videos per month for free, and each one must be under 90 seconds and 150MB or less. A pro account lets you post HD video, but the 90-second time limit remains.
All that said, Flickr is extremely popular and has an active user community. If you post photos that are even remotely interesting, you're sure to get unsolicited feedback from an eager community telling you how awesome your photography is. And sharing photos with friends and family is a snap, which is what makes this site everyone's go-to photo sharing service.
I've recently become a big fan of 500px. While it has around for a while, it recently got a major facelift and is getting attention as if it were brand new. The site is simply gorgeous, both in the presentation of your photos and in the quality of work that you'll find here. This isn't the sort of place where you'll want to upload all the photos from your camera in bulk (as many people seem to do on Flickr). Instead, 500px is like that hallway by your front door where you hang your favorite photos.
There are two kinds of accounts at 500px: a free version that allows you to upload up to 20 photos per week, and a subscription version for $50/year that has no photo or bandwidth limits. The subscription version also has a slew of other goodies that are great for photo enthusiasts and pros, like custom domains and customizable page designs.
Effusive feedback from the 500px community is far less common than on Flickr; to be honest, 500px users have somewhat higher aesthetic standards, and the overall quality of photos on 500px is so much higher that there's more competition for kudos from your peers. But if you're so inclined, you can build portfolios here of your finest photos and share them with the people who matter to you.
I have a few pro photographer friends who absolutely swear by SmugMug. Let's face it: Compared to Flickr, almost any website looks attractive. SmugMug has long been a site that knows how important aesthetics are to creative folks like photographers.
Don't look to SmugMug if you want free photo sharing; none of its tiers of service are gratis. A Basic account costs $35/year and includes unlimited photo uploads. The Power plan adds a personal domain, the ability to protect photos from being downloaded, and unlimited HD videos for $55. There's also a $145/year Pro plan that includes a store to sell your photos and other goodies.
That said, SmugMug is the place to go if you want fine-tuned control over the photos you share online. You can selectively publish SmugMug photos to Facebook or share via email, for example, as well as embed them in Web sites and blogs. You can protect your photos from downloads and establish portfolios to sell them online. SmugMug backs up your files so you can always recover them in case of catastrophe.
Looking for a photo sharing site that offers professional-level features like SmugMug, but costs just a little less? Zenfolio might be the right choice for you. Like SmugMug, Zenfolio has no completely free option (aside from the 14-day free trial), but you can get the Basic plan (2GB of storage plus an additional gigabyte each year you're with the service) for just $25/year. The Unlimited plan is better for enthusiasts: $50/year buys you unlimited storage, HD video support, and a custom domain name. Pros can pay a premium for additional plans with high-end features.
Many of Zenfolio's key features are built around serious photographers. The site has tools for setting up online stores for your photos, for example. Enthusiasts will love the customizable themes that give your portfolios a distinctive look and the plug-in that makes it easy to upload pictures directly from Adobe Lightroom.
Finally, Snapfish has been around for a long time–I first wrote about this photo sharing site back around 2001. It is completely free, with absolutely unlimited photo storage. That said, the site's photo sharing service exists mainly just to support an online printing business, so Snapfish maintains your photo collection only on the condition that you occasionally purchase something. Don't make any prints, photo books, or photo gifts at least once a year, and your photos might be disappeared.
A lot of folks store their photos on Snapfish, but it seems to me that this really only makes sense if you use Snapfish's printing services frequently. (Like Shutterfly, Zazzle, and similar sites, Snapfish offers a broad collection of services and products, from prints to clothing to photo gifts.) The photo gallery presentation is a bit utilitarian and doesn't put your photos in the best light. That said, Snapfish has some cool sharing tools you won't find elsewhere, like private "rooms" where you can chat and share photos with select friends and family.
Hot Pic of the Week
Get published, get famous! Each week, we select our favorite reader-submitted photo based on creativity, originality, and technique.
Here's how to enter: Send us your photograph in JPEG format, at a resolution no higher than 800 by 600 pixels. Entries at higher resolutions will be immediately disqualified. If necessary, use an image editing program to reduce the file size of your image before e-mailing it to us. Include the title of your photo along with a short description and how you photographed it. Don't forget to send your name, e-mail address, and postal address. Before entering, please read the full description of the contest rules and regulations.
This week's Hot Pic: "In the Everglades" by Lester F. Shalloway, Salt Lake City, Utah
Lester shot this photo while traveling the Everglades, along the Anhinga Trail. He used a Canon EOS Rebel T1i with his lens set to about 150mm.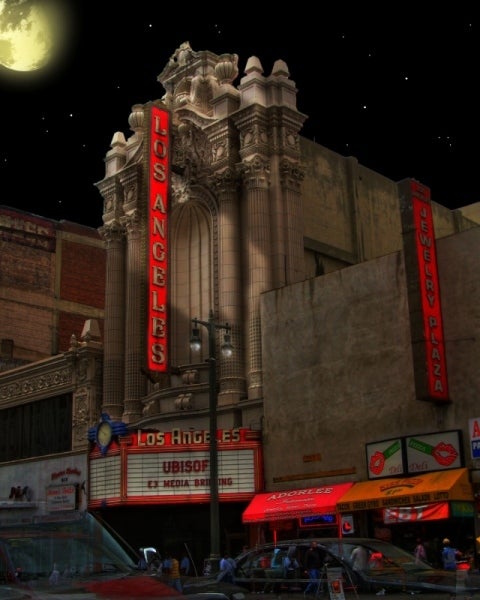 This week's runner-up: "Night Theater" by Chris Opfell, Los Angeles, California
Chris writes: "This is a photo of the now boarded-up Los Angeles Theater. I shot it in broad daylight and then enhanced it to look like nighttime in Photoshop."
To see last month's winners, visit our November Hot Pics slide show. Visit the Hot Pics Flickr gallery to browse past winners.
Have a digital photo question? E-mail me your comments, questions, and suggestions about the newsletter itself. And be sure to sign up to have Digital Focus e-mailed to you each week.