At a Glance
Expert's Rating
Pros
Inexpensive ink
Great-looking photos
Excellent software
Our Verdict
Pluses on this home-oriented MFP include an LCD touchscreen, a dedicated photo tray, and cheap inks–but its pedestrian speed is not for the impatient.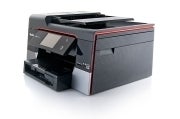 The $250 (as of December 7, 2011) Kodak Hero 9.1 color inkjet multifunction printer is $50 more expensive than the Office Hero 6.1, but this more home-oriented MFP didn't fare as well in our hands-on evaluations. Our test unit produced the same excellent photos as the Office Hero did; this model also uses the same inexpensive inks, and it adds an easy-to-use and attractive 4.3-inch color touchscreen to the mix. Unfortunately, it also suffered from some construction quirks that its cousin did not.
In our tests, issue number one was that we couldn't lift the scanner unit to change the ink cartridges and access the upper paper path. The latch was stuck. After we made several attempts involving some extra force, it worked fine. We've never had to wear down a part like this to get it to work right. And although the Hero 9.1 survived our speed testing without a hitch, it jammed twice within an hour or so of hands-on use. Nearly all printed pages had a tiny dimple or bite in the same location along the lead edge of the sheet. While a printer's paper mechanism may leave a very small nick where it grabs the edge, obviously a jam is an undesirable outcome. Kodak is sending us a replacement unit to double-check.
Otherwise the Hero 9.1 performed as advertised. Photos looked great, featuring by far the most realistic color spectrum in the business. Text was sharp and dark, if not perfectly black. Regular graphics printed on plain paper were acceptable (though a little dull and grainy). Color copies of heavily covered pages showed a subtle but noticeable vertical banding, unlike the horizontal banding we're more accustomed to seeing.
The Hero 9.1 is fast enough for a home office or dorm room, but not for most businesses. Text pages emerged from our test unit at a sedate 5.1 pages per minute on the PC and 3.8 ppm on the Mac. Half-page photos printed at 2.2 ppm on plain paper, and 1.2 ppm on Kodak's glossy photo paper. A full-page photo prints in approximately two and a half minutes, though as noted it's worth the wait. Our scans weren't particularly quick either.
The installation procedure for the Hero 9.1 is best-in-class. The setup software is attractive and painless to use, and the Home Center software is comprehensive as well as extremely easy to work with. You get OCR (optical character recognition) functions as well as 3D photo printing (Kodak even includes 3D glasses for you to enjoy the results), plus the usual photo-printing and scanning modules. Kodak also offers many ways to use this printer with a mobile device, via Google Cloud Print or its own email printing service, as well as through mobile-device apps for printing wirelessly.
Much as we enjoy the Home Center software, we encountered a few kinks during use this time. When we tested the Hero 9.1 on our Mac platform using Microsoft Word, the system hung after we selected the 'Printer Options 2' menu option in the print driver. Kodak is aware of this issue, and will be releasing a fix with the 7.3 version of its Home Center software later this month.
The Home Center scan driver includes Kodak's Perfect Page, an imaging technology designed to improve the quality of scanned documents with less user intervention. It is enabled by default in the driver. Unfortunately, in our routine test of scanning a simple document with plain black text, the results were decidedly imperfect, showing significant areas of white artifacts, especially within larger font sizes. Kodak confirmed that if the user tells the driver to scan a document in black-and-white, leaving Perfect Page enabled creates this result. Disabling Perfect Page eliminates the issue.
The Hero 9.1 connects via USB, ethernet, or Wi-Fi, and offers SD Card, MultiMediaCard, Memory Stick, and USB/PictBridge ports for easy photo printing or offloading of scans. The bottom-mounted paper tray holds 100 sheets and has an integrated 40-sheet photo tray–the main difference, other than appearance, between the Hero 9.1 and the Office Hero 6.1. The output tray holds approximately 50 sheets, and the automatic document feeder for the letter/A4-size scanner holds 30 sheets. Duplexing is fully supported throughout the unit, with two-sided printing as well as two-sided-to-two-sided copying and scanning available.
Ink for the Hero 9.1 has the same outstandingly low cost per page as that of the Office Hero 6.1. The standard-size, 425-page black cartridge costs $10, for a per-page cost of only 2.35 cents. The three-color unified cartridge costs $20 and lasts for 420 pages, or 4.75 cents per page. A four-color page for only 7.1 cents is literally half the cost of what you'd pay with many MFPs in this class. The $17, 770-page XL black cartridge cuts costs only slightly, to 2.2 cents per page, but it does save on trips to the store for refills.
The Kodak Hero 9.1 has a lot going for it, but its slowness, as well as the physical flaws we encountered, prevent a wholehearted recommendation. Many people may prefer the cheaper Office Hero 6.1, or alternatives such as the Epson Artisan 837 or the HP Photosmart 7510.