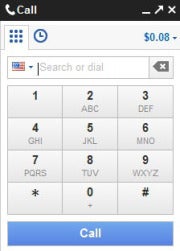 Once again, Google will extend free Gmail calls for another year, which will allow desktop users to call any domestic number within the United States or Canada through the end of 2012.
To initiate a call, Gmail users can click on the "Call Phone" option from the chat menu on the left side of the screen, and then dial any domestic number. Google Voice users can also accept incoming calls through desktop Gmail at no charge.
The main difference between Gmail and Skype is that Google allows users to call mobile phones and landlines for free, whereas Skype only allows free calls to other Skype accounts. Skype, however, offers mobile apps for calling other users. Google doesn't offer any free voice calling on mobile phones. Both services charge for international calls.
Google added phone calls to Gmail in August 2010, saying at that time that it would start charging for domestic calls in 2011. Later that year, Google extended its free Gmail calling offer through the end of 2011. Now, the company is extending the offer for yet another year.
It's not clear why Google is offering free calls for so much longer than originally intended; a short post at the Official Gmail Blog offers no explanation. Perhaps Google needs more time to build up a user base against Skype, or perhaps the company is earning enough revenues from international calls.
Whatever the reason, I'm glad to see free calling stick around until at least 2012, but I also wonder whether this year will be the last. Google done a lot of streamlining lately, shutting down Labs, Power Meter, Health, Buzz, and other services that have either become unpopular or obsolete. I don't know whether Gmail calling is a hit, but if not, it could also end up on the chopping block, especially as Google turns its attention toward Google+ and Hangouts for live communication.
Follow Jared on Twitter, Facebook or Google+ for even more tech news and commentary.