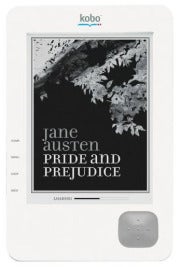 If the $79 Amazon Kindle seems a bit pricey for your gift-giving budget, Kobo has a cheaper alternative: the Kobo Wireless eReader is just $49.99 for a limited time.
Yep, that's dirt cheap all right. In fact, it's $40 off the $89.99 list price. Caveats? Of course. The $50 Kobo Wi-Fi units are refurbished, but that's not necessarily a bad thing. At least refurbs have been inspected, which isn't always the case with new units fresh off the production line.
The $50 deal is one of those while-supplies-last offers. And orders to "major urban areas" must be placed by Wednesday, December 14th (by 11:59 p.m.) for pre-Xmas delivery.
Good, Basic eReader
The Kobo Wireless eReader debuted a year ago. It features a 6-inch, E Ink Pearl display; 1 GB of storage (expandable via SD memory card to 32GB); and it comes preloaded with 100 free books, including such public-domain classics as Charles Dickens' A Tale of Two Cities.
In her review of the Kobo eReader, PCWorld's Melissa Perenson praised the device's light weight, as well as the sharpness and contrast of its display. She didn't care for Kobo screen's slow refresh rate, however.
"The Amazon Kindle and the Sony Reader Touch Edition still offer better performance. I could perceive significant page flicker and some lag while turning pages and navigating within the Kobo reader," Perenson said in her review.
Well, nobody expects a perfect eReader for $50. Given the price, the Kobo Wireless eReader refurbs will likely sell out fast.
Contact Jeff Bertolucci at Today@PCWorld, Twitter (@jbertolucci) or jbertolucci.blogspot.com.