At a Glance
Expert's Rating
Pros
Unlimited reminders for free
Uses natural language
Cons
Lacks calendar integration
Our Verdict
Followupthen.com helps you stay on top of your to-do list by delivering email reminders when you want them.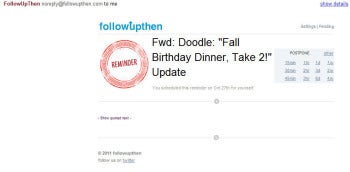 Keeping your email inbox organized is a tall task, but it's one made easier with Followupthen.com. This free service sends you email reminders at times you determine so that email messages and tasks that need attention don't get lost in an overcrowded inbox.
Followupthen.com has a whole lot in common with rival Followup.cc. Both work with any type of email account, including Web-based email services such as Gmail and Hotmail, desktop clients like Outlook and Thunderbird, and on mobile phones. That's because Followupthen.com is, like Followup.cc, an email-based service: To use it, you simply send an email to a predetermined address. The service then responds with a reminder to you, at the time you've determined. Boomerang for Gmail is a similar service, but it's a Firefox/Chrome plug-in that works only with Gmail and Google Apps Email.
Followupthen.com does have a couple of advantages over Followup.cc. For one, it lets you send an unlimited number of reminders for free; Followup.cc's free version tops out at 25 reminders a month. And it uses more natural language when scheduling reminders. You can, for example, email 2minutes@followupthen.com if you want to receive a reminder in two minutes. Followup.cc uses abbreviations (2mi), which can be challenging to remember.
But those email addresses can be added to your contact list, so remembering them doesn't have to fall on you. And Followup.cc does offer some advanced features that Followupthen.com lacks. For one, Followup.cc offers calendar integration, making it easy to add tasks to a Google or Outlook calendar directly from your inbox.
Followupthen.com does offer a few advanced features of its own, albeit only in its $24-per-year Premium version. That fee gets you the added bonus of SMS reminders, which you can have sent to your cell phone, as well as the ability to add customized design options, such as your company logo, to your follow-ups. In addition, the Premium version allows you to manage your follow-ups from a Web-based dashboard, something Followup.cc offers in all of its versions.
In the end, there's not a whole lot of difference between Followupthen.com and Followup.cc. But if you have a lot of tasks and a minimal budget, Followupthen.com will win you over with its ability to send unlimited reminders for free.
–Liane Cassavoy