At a Glance
Expert's Rating
Pros
Easy to use
Response detection feature
Calendar integration
Cons
Email addresses don't use natural language
Free version limited to 25 reminders a month
Our Verdict
Followup.cc offers a free and easy way to prevent email overload.
If you're anything like me–and thousands of other people out there–chances are good that you use your email inbox as your to-do list. Keeping that to-do list organized and easily accessible is a challenge, though, especially when you have dozens, if not more, messages arriving daily. And hundreds, if not thousands, of messages already sitting in there. Enter Followup.cc. This service can help you stay on top of your email tasks, by sending you handy reminders when you need them most. Followup.cc is available in four versions: Free, Personal ($5 per month), Plus ($10 per month), and Premium ($15 per month).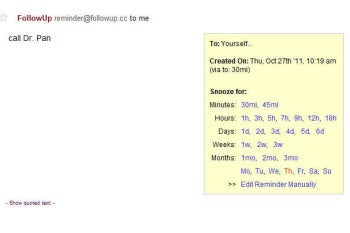 All four versions work with any type of email account, including Web-based email services such as Gmail and Hotmail, desktop clients like Outlook and Thunderbird, and on mobile phones. The reason Followup.cc works with any email service is because it's entirely email-based itself: To use it, you simply send an email message to a Followup.cc address. Then, Followup.cc emails you a reminder at the time you've determined.
You decide when you'd like to be reminded, and you use that time interval to create the email address to which you send your message. For example, if you'd like a reminder in 10 minutes, you forward your message to 10mi@followup.cc. You can also use days of the week, future dates, and upcoming hours when scheduling reminders. Rival Followupthen.com, which offers a nearly identical service, employs more natural language when scheduling reminders. You can, for example, email 2minutes@followupthen.com, which is handy when you can remember if two minutes should be abbreviated as "2min" or "2mi". But you can save the addresses in your address book, so this is a minor issue.
When you receive a reminder from Followup.cc, the message appears in the top of your inbox, but if you're not yet ready to take action, you can snooze the message. The Personal, Plus, and Premium accounts also offer calendar integration, which is a nice touch if you rely on a Google or Outlook calendar for staying organized, and tagging, which makes it easier to sort through messages. In addition, the Plus and Premium accounts offer response detection, which will automatically cancel your reminders if your intended recipient replies, saving you from unnecessary reminders.
I tested Followup.cc with an Outlook account and a Gmail account, and found it incredibly easy to use. I liked how easy it was to stay on top of my to-do list by simply drafting a message with a reminder (ie, "Call Dr. Brown"). I also liked having the choice of using the cc field or the bcc field to add followup.cc when replying to messages: when using the cc field, recipients get a reminder, too, while the bcc field shields all reminders from their view.
Followup.cc won me over with its calendar integration and tagging features. But I do wish the service would do away with the limitations placed on reminders: The free version only lets you send 25 per month, and the $5-per-month Personal version tops out at 100. Plus lets you have 250 reminders, and Premium offers 1000, which is more than you'll likely ever use. But when rival Followupthen.com offers unlimited reminders for free, it's hard to compete.
–Liane Cassavoy