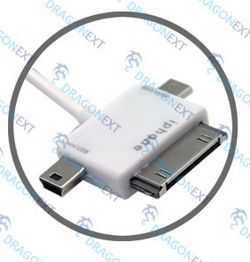 Last week I told you about the Magic Cable Trio, a 3-in-1 USB charge/sync cable with connectors for micro USB, mini USB, and Apple devices (like the iPhone and iPad).
I loved the idea, but not the $19.99 price. Thankfully, eagle-eyed reader Russell spotted a much cheaper alternative on eBay: the 3in1 Universal USB Data Cable Adaptor for Apple Android SmartPhone Cell Phone.
Not quite as glamorous-sounding as "Magic Cable Trio," I grant you, but ultimately it's the same product: a USB cable with a standard USB plug at one end and three popular connectors at the other: micro USB, mini USB, and Apple iDevice.
That means you should be able to sync and/or charge just about any gadget in your bag.
This cable, sold buy Hong Kong-based BossKnow, looks like a Frankenstein version of a standard Apple cable: the mini-USB and micro-USB connectors poke out from either side of the 40-pin iDevice connector. It's definitely not as elegant as the Magic Cable Trio, which uses nested plugs.
On the other hand, the 3in1 Universal is priced at $2.87–shipping included! (I honestly don't know how the vendor can make any money on this, as just the shipping from Hong Kong must cost more than that. But who am I to argue?)
Thus, if you were interested in the Magic Cable Trio but didn't want to shell out $20, here's your chance to get more or less the same thing for 1/6 the price. I'm sold!
Contributing Editor Rick Broida writes about business and consumer technology. Ask for help with your PC hassles at hasslefree@pcworld.com, or try the treasure trove of helpful folks in the PC World Community Forums. Sign up to have the Hassle-Free PC newsletter e-mailed to you each week.