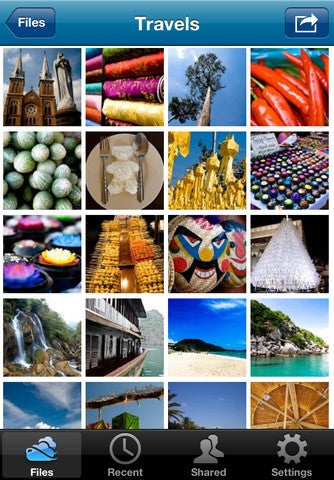 Microsoft's SkyDrive cloud storage service debuted for iPhones this week, after it had been available to Windows users for several years and on Windows Phone 7 devices more recently. Microsoft understands that a lot of Windows users are carrying iPhones with them, so SkyDrive for iOS is a welcome addition, but the personal cloud market already offers plenty of choice.
If you have an iPhone and want cloud storage, chances are you already use Dropbox or Box.net — or Apple's own iCloud — but Microsoft's SkyDrive has one major advantage over them: it offers 25GB of free storage for your documents or media files. In comparison, Dropbox offers 2GB of free storage, while Apple and Box's free accounts offer 5GB free storage.
To access your SkyDrive files, you will first have to sign in with your Windows Live/Hotmail credentials. The app has four main tabs that give you access to all your files and folders, recently edited files, a handy list of files you shared or have been shared with you, and a settings tab.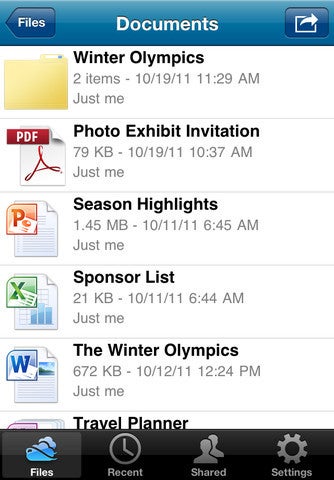 From the files or recent tabs, you can preview any Word, Excel or PowerPoint documents you have stored on SkyDrive, as well as photos, videos or music. A nice touch is the ability to stream songs you have stored on SkyDrive directly onto the iPhone, and given the 25GB storage capacity, you can fit quite a few of them there. Another good feature is the ability to check your OneNote notes (Microsoft released an iOS OneNote app this week, too) directly in the SkyDrive My Documents folder. Additionally you can organize your files in folders straight from within the app.
If you are a Dropbox power user though, don't rush to say goodbye to the service just yet. In my hands-on tour of SkyDrive for iOS, I found the service is great way to access your files remotely, especially if you have a PC or a Hotmail account. But if you are looking for advanced functionality such as opening a file in an external app, SkyDrive is just not there yet.
For example, you can preview a Word document from within the app and you can share it via e-mail for viewing only or editing on Microsoft's online version of Word. However, there is no option to open the document into an iOS app, like you can with Dropbox, so you can edit it straight on the device. SkyDrive for iOS doesn't let you upload anything other than photos or videos taken with your phone, so if you created a Word file in Pages, you can't get it on your SkyDrive via the app.
However, these shortcomings of SkyDrive for iPhone could be just temporary, as new features can be implement via subsequent software updates. Microsoft also released OneNote and Kinectimals apps for iOS this week, but it seems the company is yet to give any attention to Android users, as Microsoft is busy with patent suits with Android manufacturers.
Follow Daniel Ionescu and Today @ PCWorld on Twitter