Although Android Ice Cream Sandwich makes some big leaps in HTML5 browser performance, Apple's iOS 5 is still the king, according to a study by Sencha.
Sencha sells frameworks for creating HTML5 Web apps, using advanced features such as geolocation, animations, reflections and transitions, so the company takes a keen interest in which mobile browsers best support those features. The latest test focused on Samsung's Galaxy Nexus, which runs Android Ice Cream Sandwich.
"After putting the Galaxy Nexus through our test wringer, we can say that Ice Cream Sandwich is a major step for the Android browser," Sencha's senior director of product management, Aditya Bansod, wrote in a blog post. "However, it still falls short of iOS 5."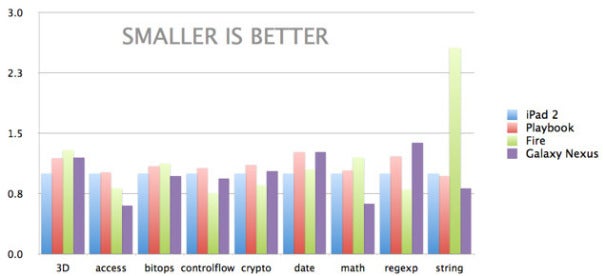 One of the biggest improvements for Ice Cream Sandwich is full support for CSS3 effects, including smooth transitions and animations that can make Web apps look like native apps. "For Web developers, you can finally rely on HTML5 in Android 4.0 to build rich user interfaces," Bansod wrote.
In addition, Android Ice Cream Sandwich supports embedded HTML5 audio and video. The Galaxy Nexus was able to play inline video at html5video.org — something that even the iPad and iPhone can't do. "In one word: finally," Bansod wrote.
Android fell short, however, in a head-to-head test of HTML5 features. The browser in Ice Cream Sandwich still doesn't support Web Workers and Web Sockets, which basically means that Web apps can't update in real-time. Instead, they must periodically refresh to get new information. Android's browser also has weaker support for various input types, and no support for Emoji emoticons.
Still, the Ice Cream Sandwich update looks good for Google, which has promoted the idea of Web apps through the Chrome Web Store, and has argued that Web apps and native apps will eventually converge. Reading through Sencha's report, I was surprised to see that Android was so far behind in mobile HTML5 support, but with Ice Cream Sandwich, Google is playing some serious catch-up.
Follow Jared on Twitter, Facebook or Google+ for even more tech news and commentary.