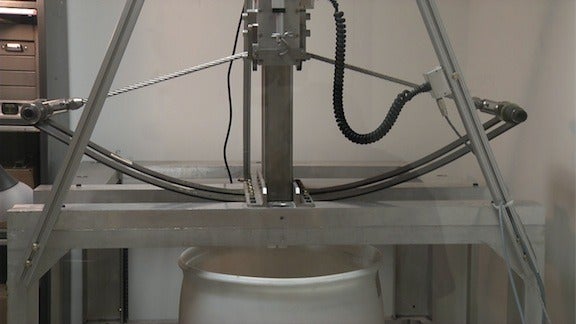 NASA is cooking up something new to help it research comets, those elusive balls of rock and ice: a cannon-fired harpoon. It sounds like something early Sci-Fi writers came up with before they thought up tractor beams, but it's actually an ingenious idea.
Unlike planets and moons, comets and asteroids are relatively small objects that move quickly, so landing on them is pretty much impossible. Even if you were to find an area on one that's large and flat enough to land on, the astronaut or a space probe would almost immediately push off the surface again because of the space rock's extremely low gravity.
So instead of dealing with an overly complicated landing sequence, why not just fire a long-range harpoon to collect subsurface samples?
NASA is currently testing the feasibility of using a harpoon with a six-foot tall crossbow at the Goddard Space Flight Center in Maryland. The crossbow is technically a ballista–the sieging weapon (I'm invading your castle) used by the ancient Greeks–made of truck springs and half-inch-thick steel cable.
NASA's testing rig points downward into a 55-gallon drum filled with mixtures of sand, rock salt, and ice to simulate the surface of a comet. The crossbow setup allows NASA's scientists to test-fire the harpoon again and again until they figure out how much launching energy they will need to penetrate a variety of surface compositions. It's also pointed downward so that the scientists don't inadvertently send a harpoon with 1000 pounds of force behind it through their walls, flying upwards at speeds of 100 feet-per-second.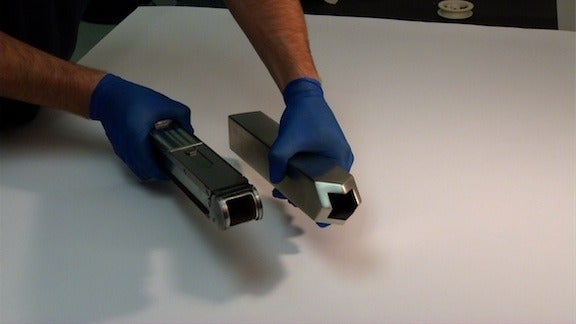 The harpoon itself is comprised of two parts that are entirely hollow. The outer shell penetrates the comet with a hollow tip that fills with sediment as it digs down. The inner section is a sample-collecting chamber that is designed with a closing sample door. After the harpoon retrieves its sample, the chamber retracts from the outer shell–like a sword pulled from its sheath–and returns to the spacecraft by a wire.
So far, this comet harpoon is just a proof-of-concept that scientists are experimenting with, and there are no planned missions that will use the system. However the first space harpoon will be fired some time in 2014 in the ESA's Rosetta mission to grapple a space probe to a comet.
[NASA via Popular Science]
Like this? You might also enjoy…
Get more GeekTech: Twitter – Facebook – RSS | Tip us off