LinkedIn just revealed the results of its study on the most overused buzzwords
on LinkedIn profiles. As a dynamic, creative writer with extensive experience and effective communication skills, I've got some advice about which terms should be used or abandoned.
1. Creative
This was the most abused buzzword in the United States, Canada, the Netherlands, United Kingdom, Australia, and Germany. However, you should be using the word "creative" if you are involved in creative work. If you are a writer, Web designer, graphic designer, or advertising professional, creativity is integral to what you do. If you're involved in anything but a creative profession, on the other hand, use of this term can come off as breezy and even carry negative connotations. Accountants, for example, should not be using it at all due to the implications of "creative accounting".
2. Organizational
This is presumably half of the term "organizational skills", since any other use would be awkward. Saying that you have "organizational skills" is stating the obvious. If you can manage to get dressed in the morning and show up to work on time, you have organizational skills. Try "time management skills" as a replacement; it has more to do with the corporate world.
3. Effective
Again, we get into stating the obvious unless this word is used to refer to a specific action. "Helmed a team that ran an effective marketing campaign that introduced 2000 new customers to the business" is acceptable, where a more generic use like "effective people skills" is not.
4. Extensive Experience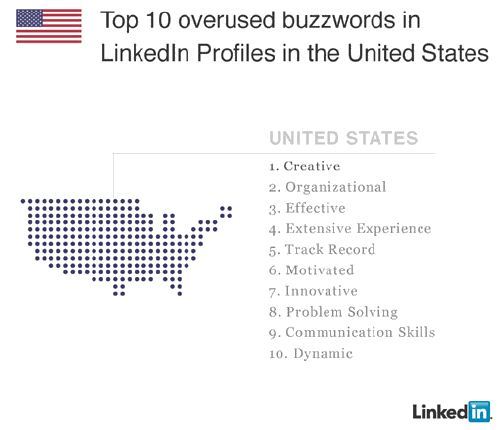 This buzzword is hard to avoid. You do want to communicate an extra amount of experience in your field if you've been working at it for a number of years. Avoid using it if you consider "extensive" to mean one to two years experience; reserve this term for time measured in decades.
5. Track Record
This is a buzzword that should be axed outright. "Experience" can replace "track record". One of the major rules of writing effectively is to replace two words with one wherever you can.
6. Motivated
Another word that falls into the painfully obvious category is "motivated". If you work at anything at all, you are motivated by something, whether it is money, contributing to society, or getting out of the house for eight hours a day. If you want to communicate that you bring a lot of energy to your role, use "energetic" or "dynamic" instead.
7. Innovative
As a general term, this sounds wishy-washy. If applied in a real context, such as "my innovative design increased our online sales by 20 percent", then you're good.
8. Problem Solving
This actually isn't as bad of a term as it initially seems. It positions you as a person who takes action in a difficult situation instead of just being the one to point out flaws. This is a great term if you are applying for jobs in a sector where managers are harried and don't have time to micromanage every element of their team.
9. Communication Skills
While this isn't a bad term to use on your profile, it is a catch-all for a very broad category of skills. "Communication skills" could cover anything from a pleasant phone manner to the ability to execute an effective marketing campaign, so break it down for potential employers. If you are a stickler for grammar and spelling, say so. If you make social media your sock puppet, tell the world. Specifics sell you more effectively than broad terminology.
10. Dynamic
I have mixed feelings about this word. It does put forward the idea of an energetic, capable personality, but is so overused in business speak that its impact may fall flat. If you truly have a dynamic personality, use it. If you're an introvert who prefers email to personal meetings, leave it off.
Most of the terms on the list fail because they are too general. Remember that your LinkedIn profile is your opportunity to showcase yourself as a unique snowflake, not to blend in with the rest of the job-seeking hordes. Be specific about what you can do, make sure to fill out your LinkedIn profile as thoroughly as possible, and let the hiring gods take care of the rest.
Here's the original list of popular buzzwords from LinkedIn–none of which appear on PCWorld's list of tech terms we'd like to ban. If you'd like some more advice about what to do with your LinkedIn profile, see these tips from an insider.
Angela West dreams of opening a Fallout-themed pub featuring wait staff with Pip-Boys. She's written for big insurance companies, small wildlife control businesses, gourmet food chains, and more. Follow her on Twitter at @angelawest and Facebook.