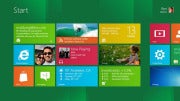 Windows 8 will be the first Windows operating system since Windows 95 to drastically modify the user interface. Not only will we see a port of the Windows Phone 7 Metro UI, we'll also see support for multiple monitor setups, an immersive version of Internet Explorer, and touchscreen optimization.
Many of the improvements that Windows 8 will bring (for example, access to the Windows Store, native USB 3.0 support, "Refresh and Reset" features that simplify restoring your system to its factory default configuration, and Windows Live account integration) aren't available yet. Nevertheless, you can get the general look and feel of Windows 8 on your Windows 7 machine–including an approximation of the Metro UI, multiple monitor support, and the ribbon-style toolbar in Windows Explorer–right now. Here's how.
Duplicate the New Metro User Interface
One of the biggest changes we'll see in Windows 8 involves the user interface: Instead of retaining the regular desktop we're used to, Microsoft is importing the Windows Phone 7-esque Metro interface.
You can duplicate the general look of the Metro interface by installing an application called Mosaic. Mosaic doesn't integrate with your desktop, as Metro will, but it does let you have a Metro-style live-tile overlay.
Mosaic is easy to set up on a Windows 7 PC. To get the app, download the latest build from the Mosaic Project website. Extract the files from the zipped build folder, and double-click Mosaic to run the program. You may want to put a shortcut to this program on your desktop for quick future access.
Mosaic will initially open in full-screen mode with two tiles. To get out of full-screen mode, click the arrow in the upper right corner. Select Options from the small black menu that appears, and disable the Enable Fullscreen Mode option. While you're in this options menu, you can also configure Mosaic to display the Windows taskbar while you're in fullscreen mode, enable widget and startup animations, or even start Mosaic automatically when you start Windows.
Currently, you can add several tiles to Mosaic to personalize it. To add tiles, first go to the Mosaic Store by clicking the Mosaic Store tile. At the Mosaic Store you can download tiles for future use–including Facebook, Gmail, Hotmail, and Twitter, as well as weather, clock, control panel, music, and picture tiles.
After downloading the tiles you want, you'll need to add them to the interface. To do this, click the arrow in the upper right corner and select Add. A list of the tiles you've downloaded will appear. Click a tile to add it; some tiles (such as email tiles and social networking tiles) may require configuring before they go live and start displaying up-to-date information.
In addition, you can pin programs and websites to Mosaic. To do this, click the arrow in the upper right and then click pin. Choose whether to pin a program or a website, and either find the program by using Windows Explorer or enter the website address. Tiles for programs will show the program icon; tiles for websites will show a snapshot of the front page.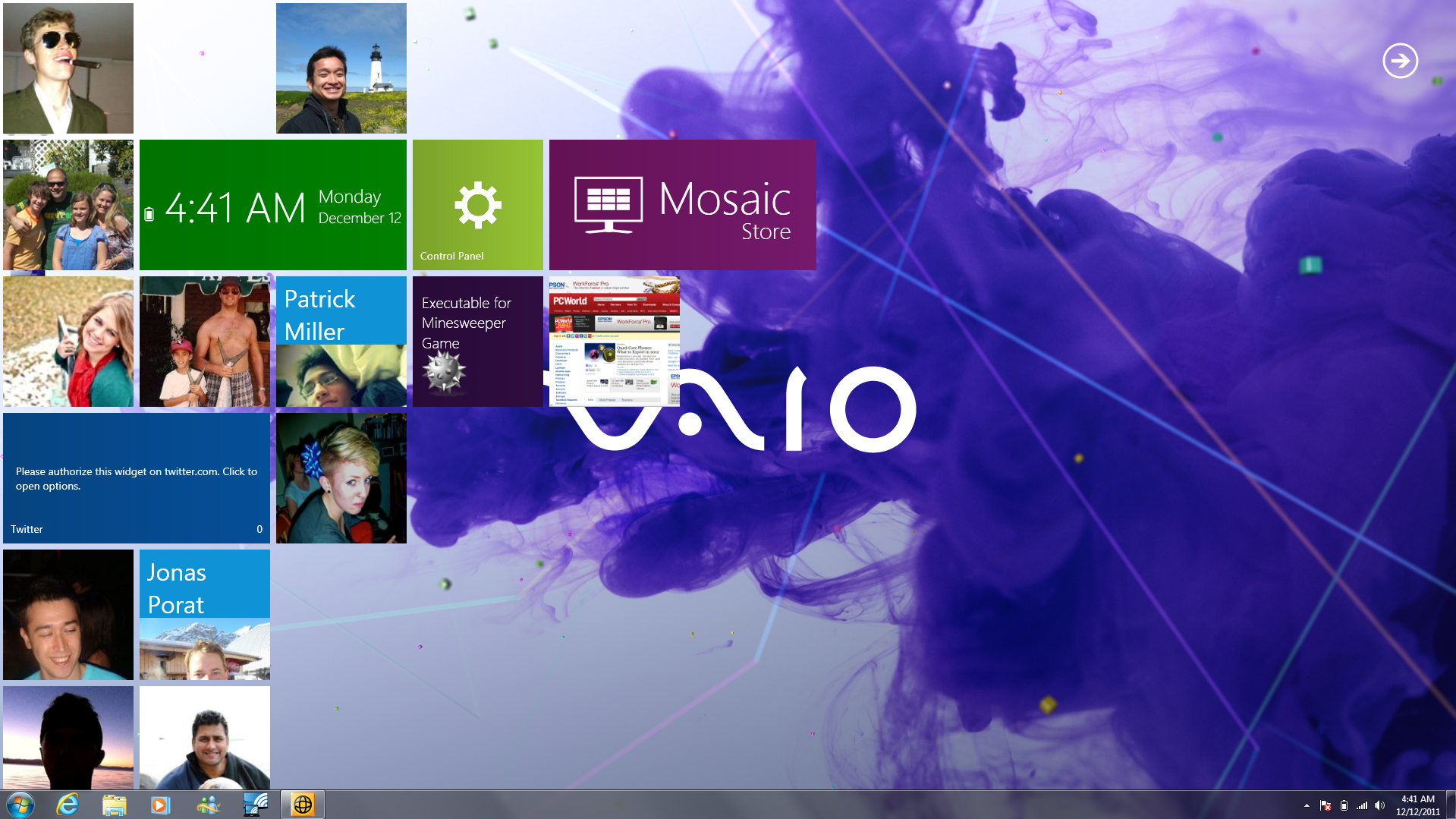 To arrange tiles, just drag and drop them over the screen. They'll automatically snap to a grid when you drop them. To remove a tile, right-click it and then click Remove.
Even though Mosaic closely resembles Windows 8, it's a separate application. So if you have a window open and you click a Mosaic tile in the background, Mosaic will suddenly come to the front, just as any other application would.
Customize Multiple Monitors
With Windows 8, Microsoft finally makes life easier for people who use multiple monitors. Windows 8 will support desktop wallpapers that span more than one monitor (as well as supporting separate wallpapers for each monitor) and better taskbar handling.
The good news is that you can nab these Windows 8 features now, with the aid of a couple of third-party applications.
To get multiple-monitor desktop wallpaper (wallpaper that spans more than one monitor) or to use different wallpapers on each monitor, use a free application called DisplayFusion. First, download DisplayFusion from PCWorld's Downloads Library, or visit the DisplayFusion website and download the latest build available there. Once the download has finished, open the executable file and install the program. Be sure to check the box that asks you whether you want DisplayFusion to run when Windows starts.
The paid version of DisplayFusion offers both multiple-monitor wallpaper support and taskbar handling, but the free version provides only multiple-monitor wallpaper support. Obviously, before you can set up your wallpaper, you must set up your multiple monitors.
To set up your multiple-monitor wallpaper, open DisplayFusion by right-clicking the icon in the taskbar and selecting Desktop Wallpaper from the menu. A window that displays all of your monitors side by side will open.
If you'd like one wallpaper to span all of your monitors, click the toggle labeled Span an image across all Monitors. To choose a single image to span across all monitors, open the Load From… menu and select My Computer. Find the image that you want to use, and open it.
If you'd like to have different wallpapers on each monitor, select the Use A Different Image For Each Monitor option. Click the monitor whose wallpaper you'd like to change (a red line will appear around the monitor you choose) and select the Load From… option. Find and select the picture you want to use it, then repeat the process for each additional monitor you want to customize with DisplayFusion.
DisplayFusion is a great way to get multiple-monitor wallpaper support at no charge. It's a generally noninvasive program, though you'll occasionally encounter pop-up windows prompting you to update to the latest build (if you choose not to update, nothing will happen). If you're interested in additional DisplayFusion options, such as multiple-monitor taskbar support or the ability to cycle through wallpapers automatically, you can upgrade to DisplayFusion Pro for $25.
Stretch the Windows Taskbar Across Multiple Monitors
Windows 8 will also introduce the ability to span the taskbar across multiple monitors, but ou can already extend your Windows taskbar across multiple monitors by using MultiMon software. Pick up the free MultiMon Taskbar from PCWorld's Downloads Library, or download the latest version from the MediaChance website. Once you've downloaded the program, open it; the program will automatically load an extra taskbar onto whichever monitor Windows recognizes as your second screen. To customize your taskbar, first right-click the Properties menu in the MultiMon taskbar; from there, you can choose to auto-hide the taskbar, insert a caption button, use the Ctrl-Alt-arrow keys to move left and right, and add a multitext clipboard. Another option is to add a taskbar to your third monitor, if you happen to be hardcore enough to need three monitors.
Unfortunately, MultiMon Free isn't nearly as robust as the paid version, MultiMon Taskbar Pro, which costs $28. MultiMon Taskbar Pro 3.5 includes Windows XP, Vista, and Windows 7 themes, but the free version just looks like your basic gray taskbar. Ultimately, if you really want to blend your taskbar with a modern Windows interface, you probably should pay $28 for the Pro version of MultiMon.
Note: The free version of MultiMon automatically adds a second taskbar to your second monitor, and it can add a third taskbar to the your third monitor. The monitors are not switchable, however, which can pose a problem if you want the monitor you designated as secondary to host your main taskbar.
Steal Windows 8 Explorer's New Ribbon Interface
In Windows 8, Microsoft will replace the toolbar in Windows Explorer with a Microsoft Office-style "ribbon." The ribbon, which was introduced in Microsoft Office 2007, is a strip of options that changes depending on what you're doing. Not everyone likes the ribbon toolbar, but it looks as though it's here to stay.
If you like the ribbon, you can get it in your Windows Explorer now by using a different file manager. Try BExplorer (or "Better Explorer"), an alternate file management program that you can use instead of Windows Explorer. To do so, download the latest version of Better Explorer from the Better Explorer website. Once you agree to the legal Terms and Conditions, you'll be able to run the necessary executable file directly from the website.
Thankfully, BExplorer requires virtually no setup. Once you've installed the program (it will automatically install a pinned shortcut in your Start Menu), you can use BExplorer instead of Windows Explorer to open files, by opening a file from the BExplorer Start Menu shortcut (instead of using My Computer).
BExplorer's latest build features a ribbon interface. At the moment there are three ribbon tabs: File, Home, and View. In the Home ribbon, you can perform basic operations such as copying and moving files, deleting and renaming files, selecting all, and opening your favorites folder.
Clicking the View tab will bring up a ribbon with a new set of options–most of them extremely useful ways to view the files differently. For example, you can easily instruct the program on how to display the files (as Extra Large Icons, Large Icons, Medium Icons, or something else). You can also sort the items in a folder easily by using the sort options. Finally, you can show and hide items, see filename extensions, and show hidden items with one quick click.
Though many people dislike the ribbon-style toolbar in Microsoft Office, it's a significant improvement on file management. With BExplorer's ribbon toolbar, sorting and viewing files, selecting and movinge files, and organizing folders are all much easier.
Handy though it is, BExplorer isn't integrated into Windows as fully is Windows Explorer is. For example, unless you explicitly open a file using BExplorer, your files will revert by default to opening with Windows Explorer. But even though BExplorer isn't a viable replacement for Windows Explorer in everyday use, it serves as a convenient alternative if you happen to be doing a lot of work in an "Explorer"–such as organizing folders or looking for something.
Windows 8, Right Now
If you're not satisfied with these UI tweaks, you can get as close as possible to Windows 8 by downloading the publicly available Windows 8 Developer Build from Microsoft's website. The developer build is not stable, and it doesn't have all of the UI enhancements we're looking forward to in Windows 8. Microsoft warns that the current build is the pre-beta version of Windows 8 and cannot be installed–so if you're not a developer and you don't have an extra Windows 7 computer lying around, you may want to sate your curiosity with these UI tweaks and wait until the official beta is released. For more instructions, read "How to Download and Install Windows 8 on a New Partition" and "How to Download and Install Windows 8 Into a Virtual Machine."