Editor's Letter
All we wanted was to answer a simple question: Which U.S. airports are best at meeting travelers' tech needs?
The question was simple, but finding the answer (see "The 20 Best Airports for Tech Travelers") was anything but. In fact, it ended up being the most complex project in PCWorld's 30-year history, requiring two editors, one in-house researcher, 31 field researchers, four months of labor, hundreds of phone calls, the support of dozens of airline and airport personnel, and even the cooperation of the TSA.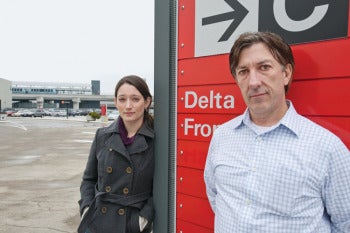 "Today's air passengers routinely carry laptops, smartphones, and all manner of connected mobile devices," explains Senior Editor Mark Sullivan, who oversaw the project and wrote the feature article. "To learn how well airports support these travelers, we had to outfit researchers with similar gadgetry and send them to the country's largest airports to perform real-world testing."
That meant recruiting "tech auditors" from across the United States, overnighting them equipment, giving them highly detailed test scripts to follow, and setting them loose in secure areas of the 40 airports that represent the vast majority of domestic air travel.
Their assignment: Count and record all electrical outlets, charging stations, work desks, USB ports, and other tech amenities. Then test cellular connection speeds for AT&T, Sprint, T-Mobile, and Verizon, as well as airport Wi-Fi service. Each auditor was equipped with a 7-inch Samsung Galaxy Tab tablet, plus four mobile hot spots for testing the carriers' wireless connectivity.
Given the scope of this endeavor, the need for troubleshooting was a constant. Much of that work fell to Staff Editor Megan Geuss, who helped to coordinate logistics. "I became used to panicked auditors calling my cell at all hours whenever there was a glitch or something didn't go right," says Geuss. "I was part hand holder, part tech support."
Because airports are highly sensitive about security, many of them initially responded uneasily to the idea that we'd set our field workers loose in their concourses. "We started by approaching their PR departments, trying to establish a dialog with the airlines," Sullivan recounts. "In some cases, the airlines gave our auditors gate passes; in others, they personally escorted us."
And sometimes, despite our best ef­­forts, they said no. Then we went to Plan B: buying plane tickets to get our people in. "I've become a master at finding bargain tickets," says Sullivan. "I was es­­pecially proud of finding a one-way $15 ticket from LA to Las Vegas, which got one of our guys into a terminal at LAX."
Even with tickets in hand, there were complications. In Cleveland, a gaggle of TSA employees stopped one of our testers and asked him what he was doing. (They had spotted him at one concourse, and then saw him again at another, and decided to investigate.) The agents took down his contact information and accepted his explanation. But they also kept tabs on him during the rest of the afternoon, and even met him at his gate to make sure that he flew out as scheduled.
Now that the survey is completed, it's time to start planning our next iteration of the project. I think we should expand our scope and go global. I've already volunteered, quite selflessly, to do some testing on my own. I hear that Tahiti's Faa'a International Airport has some knock-your-socks-off tech amenities. And reportedly the climate's not too shabby either.